Tyres
Summer tyres
M+S marking
Tyre label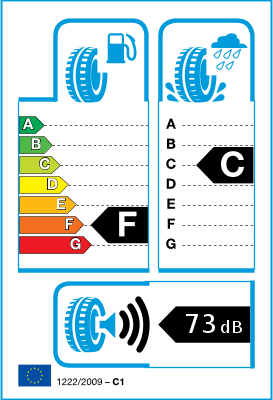 Tyre label / Efficiency class
We sell new cars tyres which are not older than 2 years.
Test Message
Tyres with the same item number, whether or not they are labeled, can be fitted on the same axle as they have the same efficiency class. Proof is available from the involved manufacturers.
The tyre efficiency class values are sent to us by the manufacturer along with the item number and the IP code. We forward the item number and these values to our customers regardless the manufacture date of the tyres excepting articles that are older than 2 years.
Please note that this tyre may not be labelled as it was manufactured before 01.07.2012.
In this case, the following efficiency classes are valid: Roll resistance: F, Wet grip: C, Noise emissions: 73 dB.
If the tyre was produced after 01.07.2012, the label from the chart on the left is valid.
You can count on having lots of fun at the wheel!
For SUVs and Pick-ups. Good grip, good price, good deal. The optimum blend of safety, activity, long service life and attractive price offered by the Bravuris 4x4 makes this tire an impressive choice. Ideally suited for driving on the road and for light off-road conditions.
Barum offers affordable long lasting performance
High safety and short braking distance on wet and dry roads
Fits perfectly for example to Nissan X-Trail, VW Touareg and Toyota Hilux
Technical details:
High safety and short braking distance on wet and dry roads
Increased driving comfort
No annoying tire noises when travelling
High mileage performance, long service life
High safety and short braking distance on wet and dry roads.
Large, robust blocks on the shoulder increase stiffness and support the tread blocks when braking. The new tread compound ensures better adhesion with the road surface and excellent grip in wet conditions. The two together increase safety when braking on wet and dry roads.

Increased driving comfort and no annoying tyre noise when travelling.
The tyre tread has a different number of blocks on the shoulder and centre section, which means the peak noise spectra are at different frequencies for the tyre shoulder and centre. This keeps the noise to a low level. The blocks are divided by sipes, smoothing out the noise peaks.

High mileage performance for a long service life.
The extremely flat tyre contour evenly distributes the ground pressure without load peaks. Optimised tread blocks ensure even stiffness. This reduces slipping in the tyre contact area. The wear-resistant tyre compound minimises wear and tear - for high mileage and a long service life.