BF Goodrich
All-Terrain T/A KO2
LT315/70 R17 121/118S 10PR
Tyres
Summer tyres
M+S marking
with snow flake symbol
Tyre label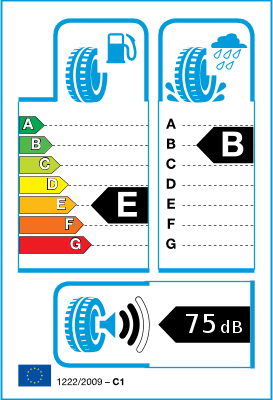 Tyre label / Efficiency class
We sell new cars tyres which are not older than 2 years.
Test Message
Tyres with the same item number, whether or not they are labeled, can be fitted on the same axle as they have the same efficiency class. Proof is available from the involved manufacturers.
The tyre efficiency class values are sent to us by the manufacturer along with the item number and the IP code. We forward the item number and these values to our customers regardless the manufacture date of the tyres excepting articles that are older than 2 years.
Please note that this tyre may not be labelled as it was manufactured before 01.07.2012.
In this case, the following efficiency classes are valid: Roll resistance: E, Wet grip: B, Noise emissions: 75 dB.
If the tyre was produced after 01.07.2012, the label from the chart on the left is valid.
BFGoodrich's toughest All-Terrain tire ever
Benefits
20% Tougher Sidewalls: Featuring race-proven CoreGard™ Technology to take on the toughest road hazards with confidence.(1)
CoreGard Technology:Tougher Sidewall Rubber: Split & bruise resistant sidewall rubber, derived from BFGoodrich's race proven Baja T/A®KR2 tire. Thicker, Extended Shoulder Rubber: Increased rubber thickness, extending down the sidewall to protect more of the critical sidewall failure zone. Advanced Deflection Design: Computer predicted object path design deflects protruding objects from snagging & splitting the sidewall.
Longer Treadlife On and Off-Road: To extend your adventure.(2)
Specially formulated tread rubber: optimally blended to reduce chip and tear for superior gravel road endurance. Advanced tire footprint shape: results in more evenly distributed stress, for longer more uniform wear. Interlocking Tread Design: provide increased tread block stability, for more even wear over the long haul Stone Ejectors: Rejects stone retention & provides extra tread cleanout protection against stone drilling.
Aggressive All-Terrain Traction: Exceeding RMA Severe Snow Traction performance requirements.(3)to confidently get where you want to go.
Side Biter Lugs: Protruding sidewall rubber blocks that provide increased mud, snow & rock traction, especially in aired-down driving situations. Mud-Phobic Bars: Raised bars in the shoulder tread area that helps to release compacted mud for enhanced traction in muddy and soft soil conditions. Serrated Shoulder Design: Staggered shoulder blocks that provide greater maneuverability in soft soil and deep snow conditions. Locking 3-D Sipes: 3-D active sipe technology, that provides more biting edges for significantly increased snow traction. 3 Peak Mountain Snowflake: Exceeds Rubber Manufacturer Association (RMA) Severe Snow Traction requirements.
(1) Improvement depends on the size of the tire purchased. 20% improvement based on internal sidewall splitting test results derived from a simulated sidewall aggression testing machine (patent pending US20120245859A1) vs. BFGoodrich® All-Terrain T/A KO tire in size LT265/70R17. Actual on-road results may vary.
(2) On-Road: Based on internal wear tests vs. BFGoodrich® All-Terrain T/A KO tire in size LT 265/70R17 Off-Road: Based on commissioned third-party gravel endurance tests vs. BFGoodrich® All-Terrain T/A KO tire in size LT 265/70R17.
(3) Snow: Based on third-party snow traction tests vs. BFGoodrich® All-Terrain T/A KO tire in size LT 265/70R17 using the ASTM F1805 Test.. Mud Traction: Based on internal subjective mud testing vs. the BFGoodrich® All-Terrain T/A KO tire in size LT 265/70R17.