BF Goodrich
g-Grip All Season
availability
at the moment, this product is not in stock
Tyres
All-season tyres
M+S marking
with snow flake symbol
Tyre label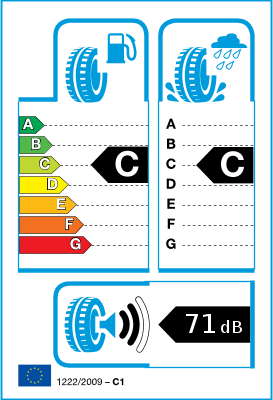 Tyre label / Efficiency class
We sell new cars tyres which are not older than 2 years.
Test Message
Tyres with the same item number, whether or not they are labeled, can be fitted on the same axle as they have the same efficiency class. Proof is available from the involved manufacturers.
The tyre efficiency class values are sent to us by the manufacturer along with the item number and the IP code. We forward the item number and these values to our customers regardless the manufacture date of the tyres excepting articles that are older than 2 years.
Please note that this tyre may not be labelled as it was manufactured before 01.07.2012.
In this case, the following efficiency classes are valid: Roll resistance: C, Wet grip: C, Noise emissions: 71 dB.
If the tyre was produced after 01.07.2012, the label from the chart on the left is valid.
Conquer the seasons
Designed to be equipped to a wide variety of cars, from compact small family cars to high performance sports cars.
Advantages
GRIP AND COMFORT in summer
And in winter as well!
Save time and money with the new BF Goodrich g-Grip ALL SEASON!
Detailed description
GRIP AND COMFORT in summer
Has all the characteristics of a summer tyre: a directional, V-shaped profile for water drainage, a central rib, and solid shoulders for good manoeuvrability.
Enjoy unbeatable grip and comfort in both dry and wet, in both curves and on straight motorway!
And in winter as well!
Allows excellent control over the vehicle on slopes, in curves and on icy roads due to the high number of fine lamellae and grooves that cover the tread.
Embossed with a 3PMSF (Three Peak Mountain Snow Flake) symbol, proving the tyre is ideal for winter.
Save time and money with the new BF Goodrich g-Grip ALL SEASON!
Purchasing 4 winter tyres and 4 summer tyres, as well as mounting and removing them, storage, all of these involve a large investment from any driver, not just in money but also time.
By opting for our new BFGoodrich g-Grip ALL SEASON tyres you can maintain your optimal comfort level while reducing your tyre budget.
By opting for these tyres, you are actively saving time and money by eliminating the need to store and change them twice-yearly.