Continental
ContiCrossContact Winter
235/65 R18 110H XL , with kerbing rib
Tyres
Winter tyres
M+S marking
with snow flake symbol
Tyre label
Frequently bought together:
1 x Continental ContiCrossContact Winter 235/65 R18 110H XL , with kerbing rib =

145.00 £

1 x Pewag pewag servo SUV RSV 80A =

145.13 £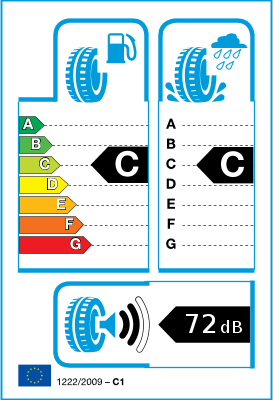 Tyre label / Efficiency class
We sell new cars tyres which are not older than 2 years.
Test Message
Tyres with the same item number, whether or not they are labeled, can be fitted on the same axle as they have the same efficiency class. Proof is available from the involved manufacturers.
The tyre efficiency class values are sent to us by the manufacturer along with the item number and the IP code. We forward the item number and these values to our customers regardless the manufacture date of the tyres excepting articles that are older than 2 years.
Please note that this tyre may not be labelled as it was manufactured before 01.07.2012.
In this case, the following efficiency classes are valid: Roll resistance: C, Wet grip: C, Noise emissions: 72 dB.
If the tyre was produced after 01.07.2012, the label from the chart on the left is valid.
Four times more control  for every road and winter
For winter use on 4x4 vehicles

The ContiCrossContact Winter has excellent traction and braking performance because of an advanced silica compound.  Due to the optimised sipe concept with progressive sinus sipes, the stable outer shoulder guarantees outstanding characteristics on dry roads.The wide circumferential tread grooves for draining and flow optimised pattern carvings on the outer shoulder ensure high aquaplaning safety.

Excellent traction and braking on snow and ice. Engineered in Germany, Continental offers premium tyres with optimum braking performance and safety. Excellent traction and braking performance on snow and wet roads. Rated as 'recommended' by AutoBild in their winter tyre test 2013 for the dimension 215/65 R16 T/H
Technical details

Exceptional braking and traction performance. Rows of siped tread blocks ensure outstanding braking and traction performance – even on wet surfaces.

Outstanding protection against aquaplaning. Wide lateral grooves and open shoulders allow excellent water absorption and expulsion. This offers optimal protection against aquaplaning.

Especially good directional stability and smooth performance. Three circumferential offset staggered blocks enter the road surface smoothly and progressively. This results in exceptional directional stability and extremely smooth and quiet running performance for an all-terrain tire.
Highlights:
Excellent traction and braking performance on snow
Outstanding handling on snow-covered and dry roads
High protection against aquaplaning
Quiet and low rolling resistance