Tyres
All-season tyres
M+S marking
Tyre label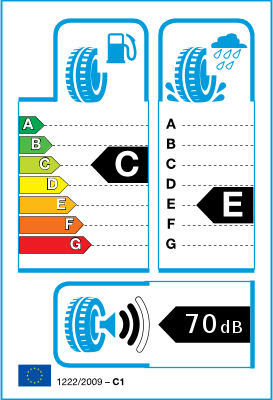 Tyre label / Efficiency class
We sell new cars tyres which are not older than 2 years.
Test Message
Tyres with the same item number, whether or not they are labeled, can be fitted on the same axle as they have the same efficiency class. Proof is available from the involved manufacturers.
The tyre efficiency class values are sent to us by the manufacturer along with the item number and the IP code. We forward the item number and these values to our customers regardless the manufacture date of the tyres excepting articles that are older than 2 years.
Please note that this tyre may not be labelled as it was manufactured before 01.07.2012.
In this case, the following efficiency classes are valid: Roll resistance: C, Wet grip: E, Noise emissions: 70 dB.
If the tyre was produced after 01.07.2012, the label from the chart on the left is valid.
Description:

The Dunlop ST20 is an on-road SUV tyre that has been specifically developed to complement the lifestyle, image and dynamics of the Toyota RAV4. It is also fitted exclusively to the exciting Nissan X-Trail. Allaround tyres with exquisit driving abilities. this tyre has a very good handling on all terrains and is singled out by it's low unreeling noise.

Technology (Features):
M+S rated tire with an all-weather tread design that helps deliver year-round traction and enhanced wet handling.
Circumferential tread grooves help pump water away from the footprint for excellent wet traction.
5-Pitch Technology™ aids noise reduction for a quiet ride.
Black serrated sidewall and raised black letter design give it a stylish edge.
Consumer benefits:
Very good wear resistance.
Low noise level.
Exceptional braking in both wet and dry conditions.
Low fuel consumption.