General
GRABBER HTS
235/60 R18 107H with kerbing rib
availability
at the moment, this product is not in stock
Tyres
All-season tyres
M+S marking
Tyre label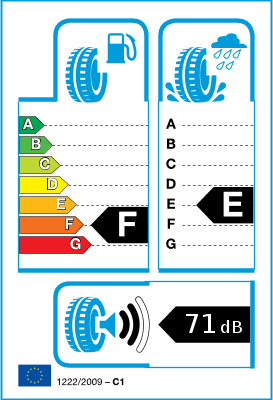 Tyre label / Efficiency class
We sell new cars tyres which are not older than 2 years.
Test Message
Tyres with the same item number, whether or not they are labeled, can be fitted on the same axle as they have the same efficiency class. Proof is available from the involved manufacturers.
The tyre efficiency class values are sent to us by the manufacturer along with the item number and the IP code. We forward the item number and these values to our customers regardless the manufacture date of the tyres excepting articles that are older than 2 years.
Please note that this tyre may not be labelled as it was manufactured before 01.07.2012.
In this case, the following efficiency classes are valid: Roll resistance: F, Wet grip: E, Noise emissions: 71 dB.
If the tyre was produced after 01.07.2012, the label from the chart on the left is valid.
Superior on tracks, powerful off the road.
For Crossovers, SUVs and Pickup Trucks.
The Grabber HTS guarantees great driving fun off-road and on firm surfaces. Innovative tread pattern design from General Tire ensures the perfect synthesis of comfort, performance and durability. This tire has a powerful grip and reacts in an optimal way to all surface demands in the most varied weather conditions. The reduced rolling resistance minimises wear and fuel consumption.
Born in the USA, General Tire offers products for all types of vehicles, for all seasons and all terrains
High performance in extreme conditions and track holding on asphalt
Fits perfectly for example to Honda CRV, VW Touareg and Ford Ranger
Features:
Duragen™: Ultra high strength steel belts, micro-fiber casing reinforcements, and a broad tire contour
Adaptive Performance: Response Grooves™, Stabilink Bars™ and three kinds of siping
Comfort Balance: Tread cushioning system and noise-capturing pockets
Eco-Ride: The latest generation fuel efficient tire compound
Benefits:
Born from competition but adapted for the highway, this technology provides even treadwear for longer mileage and confidence in challenging conditions.
Excellent all-season tire, enhanced steering response, reliable performance
Quieter, more comfortable ride
Improves fuel economy, minimizes CO2 emissions
High performance in extreme conditions and track holding on asphalt. DURAGEN technology uses the latest advances in technology. The tread ensures high performance off-road and tracking stability on asphalt.
Outstanding steering precision. The flexibly responsive groove geometry and stabilising tread bands anterior to the shoulder area ensure the Grabber HTS sits firmly and safely on the road and exhibits outstanding steering precision.
Improved traction and reduce aquaplaning risk. Water-repellent lateral grooves constantly channel water away, improve traction and overcome the fear of aquaplaning.
Short braking distances, improve acceleration and steering performance on slippery ground. Optimised longitudinal grooves shorten braking distances and improve acceleration and steering response on slippery surfaces.
Reduced fuel consumption and CO2 emissions. The even tread pattern with high-tech contour reduces fuel consumption and thus CO2 emissions.