Goodyear
Wrangler All-Terrain Adventure
Tyres
Summer tyres
M+S marking
Tyre label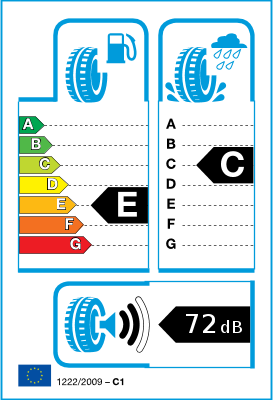 Tyre label / Efficiency class
We sell new cars tyres which are not older than 2 years.
Test Message
Tyres with the same item number, whether or not they are labeled, can be fitted on the same axle as they have the same efficiency class. Proof is available from the involved manufacturers.
The tyre efficiency class values are sent to us by the manufacturer along with the item number and the IP code. We forward the item number and these values to our customers regardless the manufacture date of the tyres excepting articles that are older than 2 years.
Please note that this tyre may not be labelled as it was manufactured before 01.07.2012.
In this case, the following efficiency classes are valid: Roll resistance: E, Wet grip: C, Noise emissions: 72 dB.
If the tyre was produced after 01.07.2012, the label from the chart on the left is valid.
Goodyear Wrangler® All-Terrain Adventure with Kevlar
Our best tire for versatility on- and off-road, featuring DuPont™ Kevlar® for rugged strength — plus superior traction through rain and snow. For both everyday highway driving and going off-road at a moment's notice.
DuPont™ Kevlar®
Rugged strength provided by a layer of DuPont™ Kevlar® (DuPont ™ and Kevlar® are trademarks or registered trademarks of E.I. du Pont de Nemours and Company).
Off-Road Traction
Versatile off-road traction in wet, muddy conditions as a result of its open tread pattern.
Durawall™ Technology
The Durawall™ Technology helps prevent cuts in the sidewall.
All-Season Traction
Superb traction in the snow and rain thanks to its tread compound and biting edges that help grip the road.
Toughness
The LT sizes include two layers of Kevlar, 30% more steel†† for enhanced toughness, and a Severe Snow Conditions Symbol for winter weather driving.