Goodyear
Wrangler HP All Weather
245/70 R16 107H , with rim protection (MFS)
Tyres
Summer tyres
M+S marking
Tyre label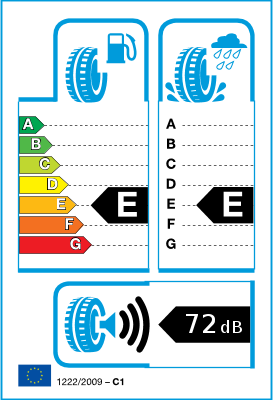 Tyre label / Efficiency class
We sell new cars tyres which are not older than 2 years.
Test Message
Tyres with the same item number, whether or not they are labeled, can be fitted on the same axle as they have the same efficiency class. Proof is available from the involved manufacturers.
The tyre efficiency class values are sent to us by the manufacturer along with the item number and the IP code. We forward the item number and these values to our customers regardless the manufacture date of the tyres excepting articles that are older than 2 years.
Please note that this tyre may not be labelled as it was manufactured before 01.07.2012.
In this case, the following efficiency classes are valid: Roll resistance: E, Wet grip: E, Noise emissions: 72 dB.
If the tyre was produced after 01.07.2012, the label from the chart on the left is valid.
Goodyear Wrangler HP
Enjoy optimum performance all year long with this intelligent 4x4 tyre. Enjoy optimum performance all year long with the Goodyear Wrangler HP All Weather, an intelligent 4x4 tyre with strong grip.
The intelligent 4x4 tyre that gives you peak performance all year round
Fantastic year-round performance
Strong grip, even in wet and wintry conditions
Aquaplaning resistance
Smooth, quiet journeys
Benefits
Strong grip in wet and wintry weather This tyre boasts deep, wide tread grooves, so if you're heading off-road, muddy terrains won't be a challenge. Slippery surfaces aren't a problem either, thanks to increased traction on the centre of the tread.
Exceptional performance all year As the name suggests, this tyre is prepared for all seasons. It's all thanks to SmartTRED Weather Reactive Technology, which reads the roads and adapts the behaviour of the tyre. Easy.
Smooth, quiet journeys The block design means you can enjoy peaceful rides in your 4x4.
Resistance to aquaplaning Staying in control comes naturally to this tyre, even in wet conditions. Water is dispersed quickly due to the tread grooves.