Tyres
Winter tyres
M+S marking
with snow flake symbol
Tyre label
Frequently bought together:
1 x Hankook RW06 195/80 R14C 106/104Q 6PR =

56.90 £

1 x ProPlus Snow Chains ProPlus 9mm. TÜV-GS Tested (TÜV Austria)ÖNORM =

23.90 £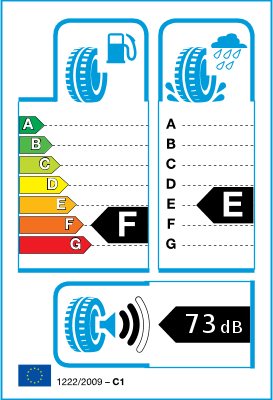 Tyre label / Efficiency class
We sell new cars tyres which are not older than 2 years.
Test Message
Tyres with the same item number, whether or not they are labeled, can be fitted on the same axle as they have the same efficiency class. Proof is available from the involved manufacturers.
The tyre efficiency class values are sent to us by the manufacturer along with the item number and the IP code. We forward the item number and these values to our customers regardless the manufacture date of the tyres excepting articles that are older than 2 years.
Please note that this tyre may not be labelled as it was manufactured before 01.07.2012.
In this case, the following efficiency classes are valid: Roll resistance: F, Wet grip: E, Noise emissions: 73 dB.
If the tyre was produced after 01.07.2012, the label from the chart on the left is valid.
Hankook RW06
The ultimate winter tyre for commercial vans
The winter RW06 uses silica compounds which are helpful in providing stability on now only snow and icy roads but slushy surfaces. Cutting-edge tie-bars stabilise alignment on snowy and icy roads by maximising handling performance.
Features
Tyre Pattern
Straight and 2 semi zigzag grooves
Based on 3 main grooves to secure safety on wet roads, the tyre is designed to satisfy both hydroplaning and snow performance by accepting the straight centre and 2 surrounding zigzag grooves.
Employing the new profile tie-bar
The tie-bar along the wall of blocks in the shoulder helps to secure dry handling and ice and snow traction competence. Adding kerfs in the shoulder tie-bar means snow performance is not reduced even after the mid-term abraison.
Cross block system
By crossing and linking thread blocks, alignment safety and braking performance on the icy roads are secured.
Cliff grooves
Cliff groove maximises the snow edge effect on the groove wall.
Tyre Structure
Wide, high-tensile steel belts
Enhanced tread strength for faster steering response and longer life.
Max-strength bead construction
Maximum steering response, high-speed stability and durability.