Kumho
Crugen Premium KL33
235/60 R18 103H , with rim protection ridge (FSL)
Tyres
Summer tyres
M+S marking
Tyre label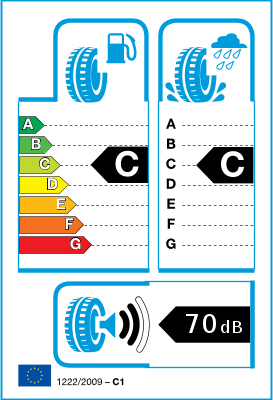 Tyre label / Efficiency class
We sell new cars tyres which are not older than 2 years.
Test Message
Tyres with the same item number, whether or not they are labeled, can be fitted on the same axle as they have the same efficiency class. Proof is available from the involved manufacturers.
The tyre efficiency class values are sent to us by the manufacturer along with the item number and the IP code. We forward the item number and these values to our customers regardless the manufacture date of the tyres excepting articles that are older than 2 years.
Please note that this tyre may not be labelled as it was manufactured before 01.07.2012.
In this case, the following efficiency classes are valid: Roll resistance: C, Wet grip: C, Noise emissions: 70 dB.
If the tyre was produced after 01.07.2012, the label from the chart on the left is valid.
Crugen is the all-new premium SUV tyre offering high quality comfort and optimum steering stability in on-road conditions.
The KL33 is the first tyre in Kumho's new Cru-Gen premium SUV tyre range, short for 'cruising generation,' and matches the typical modern day city and highway driving use of family sized SUVs such as the Hyundai Santa Fe, Kia Sorrento, Holden Captiva, Ford Territory and Jeep Grand Cherokee with 15 sizes ranging between 17 and 20 inches.
High class premium all season touring tyre for luxury SUV's
Lower noise & outstanding ride comfort
Well balanced dry & wet traction
The Kumho Crugen KL33 has been developed to provide a quality comfortable SUV tyre with good performance and durability attributes for the SUV market. The KL33 caters is a long lasting, safe tyre providing good ride in all conditions whether its around town, doing the school run or on family holidays on the open road.