Michelin
Agilis X-Ice North
235/65 R16C 115/113R , studdable
availability
at the moment, this product is not in stock
Tyres
Winter tyres
M+S marking
with snow flake symbol
Tyre label
Frequently bought together:
1 x Michelin Agilis X-Ice North 235/65 R16C 115/113R , studdable =

149.30 £

1 x ProPlus Snow Chains 4x4 ProPlus 16mm. TÜV-GS Tested (TÜV Austria)ÖNORM =

57.40 £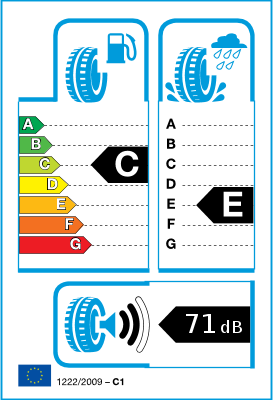 Tyre label / Efficiency class
We sell new cars tyres which are not older than 2 years.
Test Message
Tyres with the same item number, whether or not they are labeled, can be fitted on the same axle as they have the same efficiency class. Proof is available from the involved manufacturers.
The tyre efficiency class values are sent to us by the manufacturer along with the item number and the IP code. We forward the item number and these values to our customers regardless the manufacture date of the tyres excepting articles that are older than 2 years.
Please note that this tyre may not be labelled as it was manufactured before 01.07.2012.
In this case, the following efficiency classes are valid: Roll resistance: C, Wet grip: E, Noise emissions: 71 dB.
If the tyre was produced after 01.07.2012, the label from the chart on the left is valid.
Enhancing the mobility of utility van drivers in the most challenging winter driving conditions.
When snow, icy or wet roads and other extreme winter conditions make driving nearly impossible, drivers may have trouble maintaining control of their vehicles. To make driving safer and easier for utility van drivers in severe, challenging weather conditions, Michelin has introduced a new studded tire, the MICHELIN Agilis X-ICE North. The tire enables van drivers to safely overcome obstacles to winter driving while also generating cost savings thanks to its exceptional longevity and outstanding robustness.

The Michelin Agilis X-ICE North was developed to deliver superior performance in three key areas – safety, cost-effectiveness and robustness – with the goal of enabling utility van drivers to get where they need to go, even in the most difficult conditions, while also providing greater driving comfort.

Safer: On icy surfaces the new MICHELIN Agilis X-ICE North significantly enhances resistance to tracing and ensures progressive responsiveness, while on snow it improves traction by 25%.

More cost-effective: The studs on the MICHELIN X-ICE North last 30% longer and increase total tire mileage by 20%.
More robust: The sidewalls on the new MICHELIN X-ICE North offer the same well-known resistance as those on the MICHELIN Agilis summer tire, while also reducing the impact of curb scrapes.

The tire's superior performance is based on a package of special technologies developed by Michelin. The MICHELIN Agilis X-ICE North's original tread design makes the vehicle easier to control while also enhancing driving comfort. In addition to its two additional rows
of studs for better grip on ice, the tire's three-dimensional StabiliGrip sipes provide optimal traction on wet, snowy and ice-covered surfaces. Moreover, Michelin's Durable Contact Patch technology expands the vehicle's footprint by putting more rubber on the road, thereby significantly increasing total mileage.

With the new MICHELIN Agilis X-ICE North, the tire maker has once again demonstrated its commitment to partnering with van drivers and utility vehicle fleet managers. As part of that commitment, the entire MICHELIN Agilis lineup has been revamped. The new summer versions were introduced in 2008, with two winter versions (studded and studless) brought to market one year later – the MICHELIN Agilis Alpin and the MICHELIN Agilis X-ICE North.