Michelin
Pilot Alpin PA4
235/45 R19 99V XL AO, GRNX, with rim protection ridge (FSL)
Tyres
Winter tyres
M+S marking
with snow flake symbol
Tyre label
Frequently bought together:
1 x Michelin Pilot Alpin PA4 235/45 R19 99V XL AO, GRNX, with rim protection ridge (FSL) =

194.50 £

1 x DeltiGrip DeltiGrip - Snow Chain Semi-Automatic =

61.13 £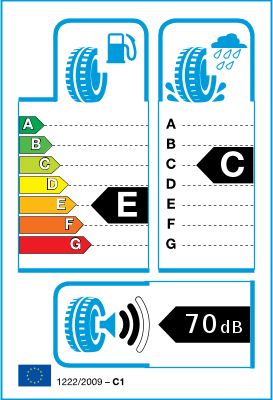 Tyre label / Efficiency class
We sell new cars tyres which are not older than 2 years.
Test Message
Tyres with the same item number, whether or not they are labeled, can be fitted on the same axle as they have the same efficiency class. Proof is available from the involved manufacturers.
The tyre efficiency class values are sent to us by the manufacturer along with the item number and the IP code. We forward the item number and these values to our customers regardless the manufacture date of the tyres excepting articles that are older than 2 years.
Please note that this tyre may not be labelled as it was manufactured before 01.07.2012.
In this case, the following efficiency classes are valid: Roll resistance: E, Wet grip: C, Noise emissions: 70 dB.
If the tyre was produced after 01.07.2012, the label from the chart on the left is valid.
Michelin Pilot Alpin PA4
This V-rated tire provides safe winter driving year after year with controlled power.
Benefits of Michelin
Exceptional Control in Snow and Ice
Equipped with an exclusive tread design and Stabiligrip, a 3D sipe technology, the new Michelin® Pilot® Alpin® PA4™ tire delivers a 10% improvement in snow acceleration and more than a 5% enhancement in handling on snow covered and icy roads.
Improved Braking Distance
The new formula of full silica-based rubber compound, Helio Compound+, allows the Michelin® Pilot® Alpin® PA4™ tire to remain flexible in low temperatures for better winter performance, stopping over 5% shorter on snow, ice and wet roads.
Certified By Ultra-High Performance Vehicle Manufacturers
The new Michelin® Pilot® Alpin® PA4™ tire is approved by the high standards of Porsche SE and is currently being tested by many other high-performance vehicle manufacturers.