Tyres
Winter tyres
M+S marking
with snow flake symbol
Tyre label
Frequently bought together:
1 x Nankang Snow SV-3 185/60 R14 82H =

39.55 £

1 x DeltiGrip Deltigrip eco - Quality Snow Chain for your car =

21.20 £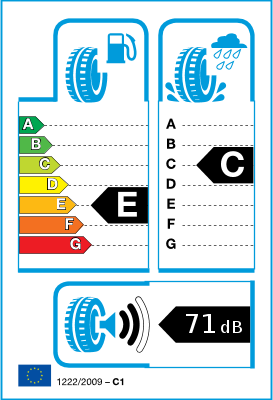 Tyre label / Efficiency class
We sell new cars tyres which are not older than 2 years.
Test Message
Tyres with the same item number, whether or not they are labeled, can be fitted on the same axle as they have the same efficiency class. Proof is available from the involved manufacturers.
The tyre efficiency class values are sent to us by the manufacturer along with the item number and the IP code. We forward the item number and these values to our customers regardless the manufacture date of the tyres excepting articles that are older than 2 years.
Please note that this tyre may not be labelled as it was manufactured before 01.07.2012.
In this case, the following efficiency classes are valid: Roll resistance: E, Wet grip: C, Noise emissions: 71 dB.
If the tyre was produced after 01.07.2012, the label from the chart on the left is valid.
Directional pattern design and lateral grooves from the centre rib to the tyre shoulder improve water drainage when driving on wet roads by moving water at the centre to both sides of the tyre through these lateral grooves. It also features improved traction on ice/snow roads by containing ice and snow in grooves and easier ice/snow removal.
The lateral groove connecting irregular longitudinal groove pattern (from narrow to wide) can reduce noise generated. The wave pattern on the bottom of wider groove improves water drainage and space for ice/snow retention.
Interlaced longitudinal grooves for improved water drainage on wet roads. The wave pattern at the groove bottom adds ice/snow grip and ground friction. The triangular block located on the inner wall of the longitudinal groove improves water drainage and traction on wet roads.
The sawtooth shape lateral grooves of tyre shoulder not only adds initial tyre friction but also extra traction for cornering stability. The grooves on the tyre shoulder improve water drainage and tyre's snow traction performance.
Similar to off-road tyre sidewall design with largely patterned grooves improves extra ice/snow contact patch and shovelling performance as well as traction performance on snow roads.
Adopted 3D SIPE design and offer deep, medium, and shallow sipe at a different location of pattern blocks. The centre rib with deepest sipes for improved ice/snow traction while the sidewall with the shallowest sipes for better rigidity and cornering performance.