Delticom efficiency index
The efficiency class label evaluated based on customer preferences.
Delticom centralized survey results from more than 40.000 customers from 15 European countries and created this index.
Client reviews rating
More than 5 billion kilometers. Testcauciucuri.com offers over 430 000 tests firsthand - from consumers for consumers.

Type of Tyre
Summer tyres
Speed Index
Approved up to 240 km/h
EU Tyre Label
Nokian Line
Precise and stable in rapidly changing weather conditions
Unique grip and safety for wet roads
Comfort and economy
The high-performance Nokian Line summer tyre masterfully handles the rapidly changing road conditions in the summer.

The new innovations, the Cross-block Sipes and Swoop Grooves, enable the Nokian Line to steer precisely and provide excellent grip, even on roads made slippery by rain.

This new tyre, designed especially for high-powered cars and with a good, precise driving feel, offers uncompromisingly safe and comfortable travel from the first moments of spring until long into the autumn.

New innovations maximise wet grip

The unique Cross-block Sipes on the centre ribs of the tyre work in two ways. Near the outer shoulder, the Cross Sipes combine with the firmer rib to provide driving stability.

The more heavily articulated Cross Sipe on the rib next to the inner shoulder ensures soft road contact, while reducing rolling resistance and noise levels.

To prevent aquaplaning, separate Swoop Grooves were also shaped in the transversal main grooves on the outer shoulder.

These elliptical slots store more water as the volume of the transversal grooves increases. The shape ensures that the firm tyre has excellent wet grip, even when worn.

Stable and precise, even at higher speeds

The typical inside-outside tread design of the test-winning Nokian summer tyre range adds to driving comfort and makes the tyre easy to steer. The larger, bound pattern blocks on the outer shoulder make the tyre firmer.

The strong centre rib supports the mid-section, where a more rigid rubber compound has been lifted below the surface. This ensures safe drivability even at higher speeds and in extreme situations.

The precise driving feel is also accentuated by the Double Block Support on the outer shoulder. The shoulder areas are also supported by the 20-degree slants on the groove walls, this provides excellent driving comfort during cornering, lane changes, and evasion.

Eco-friendly, comfortable ride

The new tread compound, the Nokian Intelligent Silica, is especially developed for higher speeds. The rubber compound represents the latest in technological developments: it works in an exemplary manner in a wide range of temperatures, maximising wet grip. At the same time, it reduces heat generation while driving, thereby improving wear resistance.

Thanks to the new rubber compound, tread model and innovations, this new product from Nokian Tyres has exceptionally low rolling resistance. The Nokian Line tolerates varying roads well, rolls lightly, consumes less fuel, and minimises harmful CO2 emissions.

New groove depth indicator and info area
This wet road champion has a new type of Driving Safety Indicator (DSI), patented by Nokian Tyres, on its tread surface. The new introduction is that the DSI has been made easier to use than ever before. The numbers indicating groove depth and the water drop symbol indicating a risk of aquaplaning have been rotated to be immediately visible to a driver inspecting the tyres installed on a vehicle.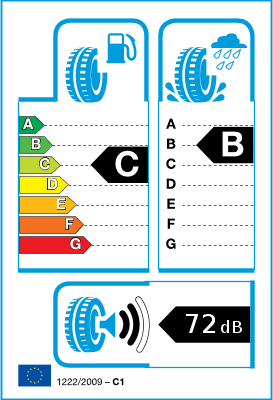 EU Tyre Label and Efficiency Classes
The European Union, under CE 1222/2009, has mandated that all tyres manufactured after the date of July 1 2012 for cars and commercial vehicles include standard EU Tyre Labels classifying them by three performance characteristics:fuel efficiency classified from A to G,wet grip classified from A to G, and noise emission in decibels.
Categories of tyres unaffected by this regulation include: retreaded tyres, professional off-road tyres, racing/sports car tyres, as well as certain types of tyres designed to improve traction such as studded tyres, T-type temporary spare tyres, tyres for cars built before 1990, tyres with a maximum allowed speed of 80km/h, tyres for rims with a diameter less or equal to 254 mm or greater or equal to 635 mm.
This label is intended on one hand to promote economic and ecological efficiency in traffic, as well as increase road safety, and on the other hand to help consumers select appropriate tyres by ensuring a certain degree of product transparency.
Nevertheless, the label has been criticized for only showing a very limited number of characteristics. Professionals argue that tyres have many more features that are important and relevant to road safety, including but not limited to aquaplaning properties, driving stability, service life, product properties on wet and dry roads other than wet grip, properties on snow.
Tyre manufacturers suggest that the test results from various institutions and industry magazines should remain a very important source of information for the end consumer, because they focus on and rate a wide variety of tyre properties and features.