Delticom efficiency index
The efficiency class label evaluated based on customer preferences.
Delticom centralized survey results from more than 40.000 customers from 15 European countries and created this index.
Client reviews rating
More than 5 billion kilometers. Testcauciucuri.com offers over 430 000 tests firsthand - from consumers for consumers.

Type of Tyre
Summer tyres
Speed Index
Approved up to 300 km/h
EU Tyre Label
Stable, precise, and quiet

Retains its accurate driving properties in high speed driving

Excellent safety on wet roads

The sporty Nokian zLine is a professional in demanding driving conditions, thanks to its new generation of tread compound, nanotechnology layered structure, and tread pattern developed for fast driving.

It immediately responds to steering, which is an essential requirement for safe operation at extreme limits.

The new Nokian Intelligent UHP Silica: lower heat generation, better wet grip

The Nokian Intelligent UHP Silica tread compound developed for Nokian zLine was specially tailored for demanding use at higher speeds. The new UHP tread compound was refined to have extremely low heat generation, maximising the available mileage and ensuring good structural integrity.

The rubber compound works ideally along a wide temperature range, thereby improving wet grip that drivers will truly appreciate. The feel of the road is perfect and provides no surprises under any conditions.

Tread pattern supports optimal handling

The new, modern tread shape of the Nokian zLine perfectly supports the precise driving feel of this high-performance tyre. As in the other Nokian summer tyres designed for fast driving, the tread is of an asymmetrical inside-outside pattern.

The rigid inside and outside shoulder area connects with block patterns that are bound together by longitudinal ribs. The wide, massive ribs stiffen the tyre and reduce the movement of the pattern blocks during road contact.

The longitudinal ribs next to the inner shoulder are dominated by deep lateral grooves that stabilise handling. At the same time, this new Hydro Grooves innovation effectively prevents aquaplaning by storing water from between the surface and the tyre, and by guiding the water into the longitudinal grooves. The innovation ensures a safe driving feel, even in the rain.

To combat aquaplaning, separate Swoop Grooves were also shaped in the transversal main grooves on the outer shoulder.

More driving comfort and durability

The semi-circular indentations, reminiscent of a golf ball, on the walls of the transversal grooves provide additional driving comfort for the Nokian zLine.

This Silent Groove Design innovation reduces the interior noise and external rolling noise of the vehicle.

Even motorists who are used to higher speeds can rely on the Nokian zLine for years of service, even as the tyre gets older and wears down. The extremely stiff steel belt pack, designed for fast Central European roads and combined with a double body structure, is made of high-strength steel wire.

The tough, durable Nokian zLine is sure to work well even on poor road sections. A new rim guard provides additional protection for the edge of the rim.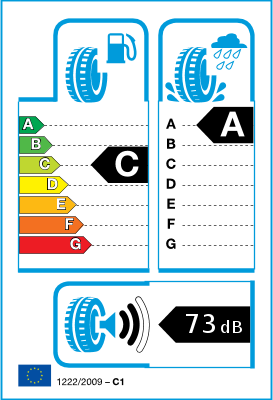 EU Tyre Label and Efficiency Classes
The European Union, under CE 1222/2009, has mandated that all tyres manufactured after the date of July 1 2012 for cars and commercial vehicles include standard EU Tyre Labels classifying them by three performance characteristics:fuel efficiency classified from A to G,wet grip classified from A to G, and noise emission in decibels.
Categories of tyres unaffected by this regulation include: retreaded tyres, professional off-road tyres, racing/sports car tyres, as well as certain types of tyres designed to improve traction such as studded tyres, T-type temporary spare tyres, tyres for cars built before 1990, tyres with a maximum allowed speed of 80km/h, tyres for rims with a diameter less or equal to 254 mm or greater or equal to 635 mm.
This label is intended on one hand to promote economic and ecological efficiency in traffic, as well as increase road safety, and on the other hand to help consumers select appropriate tyres by ensuring a certain degree of product transparency.
Nevertheless, the label has been criticized for only showing a very limited number of characteristics. Professionals argue that tyres have many more features that are important and relevant to road safety, including but not limited to aquaplaning properties, driving stability, service life, product properties on wet and dry roads other than wet grip, properties on snow.
Tyre manufacturers suggest that the test results from various institutions and industry magazines should remain a very important source of information for the end consumer, because they focus on and rate a wide variety of tyre properties and features.