availability
at the moment, this product is not in stock
Tyres
All-season tyres
M+S marking
with snow flake symbol
Tyre label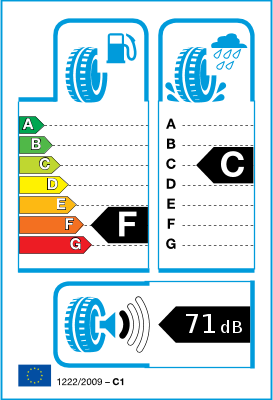 Tyre label / Efficiency class
We sell new cars tyres which are not older than 2 years.
Test Message
Tyres with the same item number, whether or not they are labeled, can be fitted on the same axle as they have the same efficiency class. Proof is available from the involved manufacturers.
The tyre efficiency class values are sent to us by the manufacturer along with the item number and the IP code. We forward the item number and these values to our customers regardless the manufacture date of the tyres excepting articles that are older than 2 years.
Please note that this tyre may not be labelled as it was manufactured before 01.07.2012.
In this case, the following efficiency classes are valid: Roll resistance: F, Wet grip: C, Noise emissions: 71 dB.
If the tyre was produced after 01.07.2012, the label from the chart on the left is valid.
Starmaxx PRO TERRA ST900
With ultimate rubber repletion rate and special tread mixture
With ultimate rubber repletion rate and special tread mixture, great wear performance on dry surfaces and high elasticity and grip performance in low temperatures. High wear resistance against wear with special shoulder structure. It is a splendid four-season tire, providing high handling performance and short brake distance with wave-shaped tread.
Technology & Benefits
HIGH DURABILITY
Strengthened Carcass and Bead Structure. High carcass and bead safety under harsh conditions.
HIGH TECH UNDERTREAD CONSTRUCTION
Jointless "0" degree spiral nylon cover and wide steel belts. It improves uniformity for smoother ride, durability and provides lower rate of tread wear.
JOINTLESS MONO STRAND BEAD WIRE AND HARD BEAD FILLER
Strengthens the link between tire and rim for a more precise driving experience. Improve lateral stability in high speed cornering and uniformity for smoother ride.