Viking
FourTech All Season
Tyres
All-season tyres
M+S marking
with snow flake symbol
Tyre label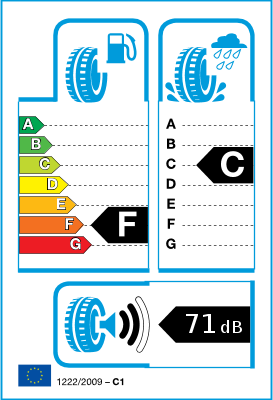 Tyre label / Efficiency class
We sell new cars tyres which are not older than 2 years.
Test Message
Tyres with the same item number, whether or not they are labeled, can be fitted on the same axle as they have the same efficiency class. Proof is available from the involved manufacturers.
The tyre efficiency class values are sent to us by the manufacturer along with the item number and the IP code. We forward the item number and these values to our customers regardless the manufacture date of the tyres excepting articles that are older than 2 years.
Please note that this tyre may not be labelled as it was manufactured before 01.07.2012.
In this case, the following efficiency classes are valid: Roll resistance: F, Wet grip: C, Noise emissions: 71 dB.
If the tyre was produced after 01.07.2012, the label from the chart on the left is valid.
Viking FourTech
The all-season tire
Four seasons – one versatile tread pattern
SPORTY. STRONG. SAFE!
The modern, all-season tire for city vehicles in the compact and midsize segments. Whether you're on dry roads in summer or snow-covered trails in winter, FourTech will win you over with its superior safety during any time of year.
Technical Highlights
Perfect grip, short braking distances.
Stable longitudinal shoulder blocks provide optimized transfer of grip and braking power. This ensures short braking distances on dry roads.
Efficient water channeling guards against hydroplaning.
The wide cross-grooves running around the circumference of the tire are optimized for efficient water channeling. This enables improved protection against hydroplaning, thus increasing safety in wet conditions.
Superior safety on snow.
The optimized siping technology in the middle of the tread provides more gripping edge surface and greater flexibility. This ensures proper braking and improved traction on snow.