Tyres
All-season tyres
M+S marking
with snow flake symbol
Tyre label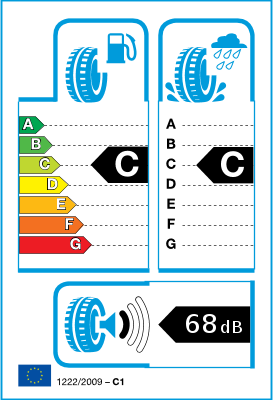 Tyre label / Efficiency class
We sell new cars tyres which are not older than 2 years.
Test Message
Tyres with the same item number, whether or not they are labeled, can be fitted on the same axle as they have the same efficiency class. Proof is available from the involved manufacturers.
The tyre efficiency class values are sent to us by the manufacturer along with the item number and the IP code. We forward the item number and these values to our customers regardless the manufacture date of the tyres excepting articles that are older than 2 years.
Please note that this tyre may not be labelled as it was manufactured before 01.07.2012.
In this case, the following efficiency classes are valid: Roll resistance: C, Wet grip: C, Noise emissions: 68 dB.
If the tyre was produced after 01.07.2012, the label from the chart on the left is valid.
New benchmark in four-season tyres: the Vredestein Quatrac 5
Advanced tread design:
The new Vredestein Quatrac 5 is characterised by the sleek, asymmetrical design of the tread - a sophisticated symbiosis of winter and summer tyres. The profile on the summer side, with reduced air ratio, ensures excellent handling, great steering precision and plenty of lateral grip on dry and wet road surfaces. The winter side, which deploys sophisticated sipe technology, ensures exceptional grip on cold or snowy surfaces. Another striking feature is the asymmetrical outer longitudinal groove, the edges of which are placed at different angles in the tyre tread. This further optimises the stiffness of the tyre, resulting in greater stability and enhanced handling on dry road surfaces.
New technology:
3D Grip Claws Several new technologies make their debut in the Vredestein Quatrac 5, such as the 3D Grip Claws. Arranged between the sipes in the middle of the tyre, they ensure perfect grip on bends and make it possible to accelerate quickly, even on snowy and icy roads.
Full Silica Compound:
Another new aspect of the Vredestein Quatrac 5 is the Full Silica tread compound mix, which is characterised by a special polymer composition. This ensures a high degree of resistance to wear – making for a long lifespan – while the even distribution of pressure results in an even wear pattern.
Technology:

Innovative tread design: with an asymmetrical outer longitudinal groove for greater stability and enhanced handling on dry surfaces.
3D Grip Claws: great grip when cornering, faster acceleration on snow and ice.
Clever and attractive design: with unique summer and winter sides: optimised performance in all conditions.
Green EU tyre label: low rolling resistance, short braking distances on wet surfaces, exceptionally quiet operation.
Innovative Full Silica Compound: durability and long lifespan.