Vredestein
Wintrac Xtreme S
265/70 R16 112H , with rim protection ridge (FSL)
Tyres
Winter tyres
M+S marking
with snow flake symbol
Tyre label
Frequently bought together:
1 x Vredestein Wintrac Xtreme S 265/70 R16 112H , with rim protection ridge (FSL) =

105.88 £

1 x ProPlus Snow Chains 4x4 PAT 16mm. TÜV-GS Tested (TÜV Austria)ÖNORM =

66.11 £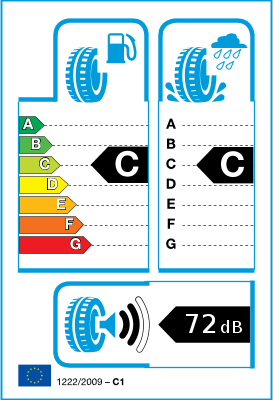 Tyre label / Efficiency class
We sell new cars tyres which are not older than 2 years.
Test Message
Tyres with the same item number, whether or not they are labeled, can be fitted on the same axle as they have the same efficiency class. Proof is available from the involved manufacturers.
The tyre efficiency class values are sent to us by the manufacturer along with the item number and the IP code. We forward the item number and these values to our customers regardless the manufacture date of the tyres excepting articles that are older than 2 years.
Please note that this tyre may not be labelled as it was manufactured before 01.07.2012.
In this case, the following efficiency classes are valid: Roll resistance: C, Wet grip: C, Noise emissions: 72 dB.
If the tyre was produced after 01.07.2012, the label from the chart on the left is valid.
Vredestein Wintrac Xtreme S
Vredestein's Ultra High Performance winter tyre, the Wintrac xtreme S, was developed to stand up to the extreme weather conditions in the coldest season of the year. Maximum safety on snow and ice are as important as grip and steering precision for the Wintrac xtreme S, especially on the cold snow-free surfaces on which people drive the majority of the time.
Thanks to its Internal Sipe Locking Technology (ISLT), the Wintrac xtreme S takes the characteristics of a top-class winter tyre to a whole new level. The technology minimises deformation of the sipes in the tread, resulting in excellent course stability, greater steering precision and an enhanced sense of safety at higher speeds. There are many sizes available with the Y speed index and - combined with the great looks that come from a Giugiaro-designed tyre - this makes the Wintrac xtreme S suitable for the highest performance and most exclusive cars.
Features
Innovative sipe technology
Internal Sipe Locking Technology
Two extra wide circumferential grooves
Design tread and sidewall by Giugiaro
Speed index H, V and Y
Also available in sizes with high load capacity
Benefits
Straight sipes: optimal traction and a short braking distance on snow and ice
Zigzag sipes: extra grip in bends
Superior traction and steering precision in all conditions
Excellent water dispersal, even for the widest sizes
Low noise levels
Sporty look with cool and sleek lines
Suitable for speeds up to 186 mph (300 km/h)
Also suitable for SUV use