Delticom efficiency index
The efficiency class label evaluated based on customer preferences.
Delticom centralized survey results from more than 40.000 customers from 15 European countries and created this index.
Client reviews rating
More than 5 billion kilometers. Testcauciucuri.com offers over 430 000 tests firsthand - from consumers for consumers.

Yokohama
Advan Sport (V103) ZPS
Stock Level
at the moment, this product is not in stock
Type of Tyre
Summer tyres
Speed Index
Approved up to 270 km/h
EU Tyre Label
Yokohama Advan Sport V103 - Premium Sport
Applications
Premium cars
High performance cars
High performance SUVs
Benefits
A perfect balance of sport and comfort
High speed rating over 300 km/h (depend on sizes)
Exceptional handling and braking in extreme conditions
Wider size range to meet premiums and tuned cars
OE approval spec available
Feature
High grip compound with a low dependency on temperature
Innovational ADVAN asymmetric tread design for outstanding drivability
Exclusvive construction for high powered, high speed and high loading stress
OE approved vehicles: Audi, Bentley, Honda, Mercedes-Benz, Mercedes-AMG, Nissan, Porsche, Volkswagen
Flagship tyre of the ADVAN series. A superior sports tyre with ultra high-speed capabilities (over 300 km/h*) for super cars. The ADVAN Sport provides balance at a high level, resulting not only in sporty performance, but also excellent characteristics on wet pavement, a good ride, low noise, as well as many other features demonstrative in its class. Ideal for performance cars, from high-powered saloons to tuned cars. *Speed capability dependent on dimension.
A high-grip compound created through joint development with super sports car manufacturers. The new compound developed for ADVAN Sport was tested many times under hypervelocity conditions, and is the ultimate model from YOKOHAMA. This high-grip rubber ensures both flexibility and strength.
"Innovation" is our tradition. ADVAN's asymmetrical pattern, which is its tradition, is proof of its place in the history of the sports tyre. You can actually feel its outstanding drivability.
Specifically designed for high-speed driving, the ADVAN Sport ensures stability in high-powered sports cars. Using the latest technologies, the ADVAN Sport, designed for speed, accomplishes a high resistance and accurately simulates the loading stress on your tyres during driving.
Run Flat Tyre - Zero Pressure System
The ADVAN Sport ZPS (Zero Pressure System) is a self supporting Run Flat tyre with the well known handling, comfort and performance of the ADVAN Sport with the added safety of ZPS.
Upmarket cars factory fitted with Run Flat tyres can now choose the ADVAN Sport ZPS Run Flat tyre. It offers a smoother and more comfortable ride with the high performance handling the ADVAN Sport is renowned for. It has an exclusive construction and design.
A low heat generating bead filler material provides rigidity to support the weight of the vehicle in zero pressure conditions. Common fitments include; run flat tyres for Mini Cooper, run flat tyres for BMW 3 series and 5 series. The ADVAN Sport ZPS is only available from accredited Yokohama ADVAN ZPS Run Flat Dealers.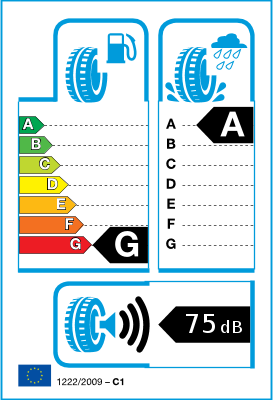 EU Tyre Label and Efficiency Classes
The European Union, under CE 1222/2009, has mandated that all tyres manufactured after the date of July 1 2012 for cars and commercial vehicles include standard EU Tyre Labels classifying them by three performance characteristics:fuel efficiency classified from A to G,wet grip classified from A to G, and noise emission in decibels.
Categories of tyres unaffected by this regulation include: retreaded tyres, professional off-road tyres, racing/sports car tyres, as well as certain types of tyres designed to improve traction such as studded tyres, T-type temporary spare tyres, tyres for cars built before 1990, tyres with a maximum allowed speed of 80km/h, tyres for rims with a diameter less or equal to 254 mm or greater or equal to 635 mm.
This label is intended on one hand to promote economic and ecological efficiency in traffic, as well as increase road safety, and on the other hand to help consumers select appropriate tyres by ensuring a certain degree of product transparency.
Nevertheless, the label has been criticized for only showing a very limited number of characteristics. Professionals argue that tyres have many more features that are important and relevant to road safety, including but not limited to aquaplaning properties, driving stability, service life, product properties on wet and dry roads other than wet grip, properties on snow.
Tyre manufacturers suggest that the test results from various institutions and industry magazines should remain a very important source of information for the end consumer, because they focus on and rate a wide variety of tyre properties and features.