Yokohama
Advan Sport (V103) ZPS
availability
at the moment, this product is not in stock
Tyres
Summer tyres
Tyre label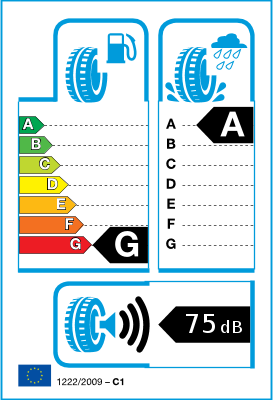 Tyre label / Efficiency class
We sell new cars tyres which are not older than 2 years.
Test Message
Tyres with the same item number, whether or not they are labeled, can be fitted on the same axle as they have the same efficiency class. Proof is available from the involved manufacturers.
The tyre efficiency class values are sent to us by the manufacturer along with the item number and the IP code. We forward the item number and these values to our customers regardless the manufacture date of the tyres excepting articles that are older than 2 years.
Please note that this tyre may not be labelled as it was manufactured before 01.07.2012.
In this case, the following efficiency classes are valid: Roll resistance: G, Wet grip: A, Noise emissions: 75 dB.
If the tyre was produced after 01.07.2012, the label from the chart on the left is valid.
Yokohama Advan Sport V103 - Premium Sport
Applications
Premium cars
High performance cars
High performance SUVs
Benefits
A perfect balance of sport and comfort
High speed rating over 300 km/h (depend on sizes)
Exceptional handling and braking in extreme conditions
Wider size range to meet premiums and tuned cars
OE approval spec available
Feature
High grip compound with a low dependency on temperature
Innovational ADVAN asymmetric tread design for outstanding drivability
Exclusvive construction for high powered, high speed and high loading stress
OE approved vehicles: Audi, Bentley, Honda, Mercedes-Benz, Mercedes-AMG, Nissan, Porsche, Volkswagen
Flagship tyre of the ADVAN series. A superior sports tyre with ultra high-speed capabilities (over 300 km/h*) for super cars. The ADVAN Sport provides balance at a high level, resulting not only in sporty performance, but also excellent characteristics on wet pavement, a good ride, low noise, as well as many other features demonstrative in its class. Ideal for performance cars, from high-powered saloons to tuned cars. *Speed capability dependent on dimension.
A high-grip compound created through joint development with super sports car manufacturers. The new compound developed for ADVAN Sport was tested many times under hypervelocity conditions, and is the ultimate model from YOKOHAMA. This high-grip rubber ensures both flexibility and strength.
"Innovation" is our tradition. ADVAN's asymmetrical pattern, which is its tradition, is proof of its place in the history of the sports tyre. You can actually feel its outstanding drivability.
Specifically designed for high-speed driving, the ADVAN Sport ensures stability in high-powered sports cars. Using the latest technologies, the ADVAN Sport, designed for speed, accomplishes a high resistance and accurately simulates the loading stress on your tyres during driving.
Run Flat Tyre - Zero Pressure System
The ADVAN Sport ZPS (Zero Pressure System) is a self supporting Run Flat tyre with the well known handling, comfort and performance of the ADVAN Sport with the added safety of ZPS.
Upmarket cars factory fitted with Run Flat tyres can now choose the ADVAN Sport ZPS Run Flat tyre. It offers a smoother and more comfortable ride with the high performance handling the ADVAN Sport is renowned for. It has an exclusive construction and design.
A low heat generating bead filler material provides rigidity to support the weight of the vehicle in zero pressure conditions. Common fitments include; run flat tyres for Mini Cooper, run flat tyres for BMW 3 series and 5 series. The ADVAN Sport ZPS is only available from accredited Yokohama ADVAN ZPS Run Flat Dealers.