Yokohama
ICE GUARD IG50 PLUS
availability
at the moment, this product is not in stock
Tyres
Winter tyres
M+S marking
with snow flake symbol
Tyre label
Frequently bought together:
1 x Yokohama ICE GUARD IG50 PLUS 165/60 R15 81Q =

80.10 £

1 x DeltiGrip DeltiGrip - Snow Chain Semi-Automatic =

61.13 £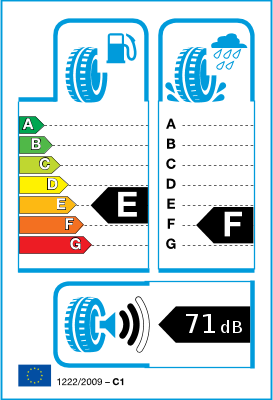 Tyre label / Efficiency class
We sell new cars tyres which are not older than 2 years.
Test Message
Tyres with the same item number, whether or not they are labeled, can be fitted on the same axle as they have the same efficiency class. Proof is available from the involved manufacturers.
The tyre efficiency class values are sent to us by the manufacturer along with the item number and the IP code. We forward the item number and these values to our customers regardless the manufacture date of the tyres excepting articles that are older than 2 years.
Please note that this tyre may not be labelled as it was manufactured before 01.07.2012.
In this case, the following efficiency classes are valid: Roll resistance: E, Wet grip: F, Noise emissions: 71 dB.
If the tyre was produced after 01.07.2012, the label from the chart on the left is valid.
Yokohama iceGUARD studless iG50 PLUS
The ultimate ice-grip with fuel-saving property.
Applications
Compact cars
Sporty hatchbacks
Benefits
Extreme ice grip
Fuel Saving
Long-life grip
Feature
Super Water Absorptive Compound
iG50 Asymmetric tread design
Triple 3-D Dimple Sipes 
Low-Heat-Generating Under Tread
Anti Energy-Loss Profile
Technology
Tread Compound
The layer of water above the ice is the biggest contributor to loss of traction. It causes 'micro hydroplaning' on icy surfaces. A traditional rubber rides on the surface water because the thickness of the layer of water in the -6 to 0°C zone becomes more than the normal undulations of the tyre surface can manage to work effectively. YOKOHAMA´s original SUPER WATER-ABSORPTIVE COMPOUND technology can put the tyre in contact with the actual ice by removing water with powerful absorbent compounds.
Absorptive Balloon
Removes Water film from the ice surface by its cavity shape. Delivers micro edge effects on the ice surface by its hard shell. Keeps tread-block solid by its hard shell construction.
Absorptive White Gel
Removes water film from the ice surface by a suitable undulation for the tyre surface delivered by its flexible property.
Tread Pattern and Construction Technologies
Anti Energy-Loss Profile
Delivers a fuel saving performance and stability by controlling a deflection of the tyre.
Asymmetric Tread pattern design
Inner zone, an effective tread pattern area for ice performance, has more actual contact area and more sipes than outer zone in order to maximize the friction and edge effects on ice surface.
Triple 3-D dimple sipes / Triple 3-D sipes
2 types of original 3-dimension shaped sipes are varied to get suitable effects and balances on each tread area. The surfaces of 3-D sipes avoid uneven deflection of blocks by supporting each other. It delivers excellent ice and snow performance with its maximized actual contact area and edge effects.
Belted Blocks
The belted blocks with a large, wide, centralized block design improve the braking stability as well as the performance on wet, dry and icy road surfaces.
Micro Diagonal Sipes
Deliver optimum performance even without a break-in period. Outer zone, an effective tread area for snow performance, has more grooves in order to maximize the traction and edge effects on snow surface.