Delticom efficiency index
The efficiency class label evaluated based on customer preferences.
Delticom centralized survey results from more than 40.000 customers from 15 European countries and created this index.
Client reviews rating
More than 5 billion kilometers. Testcauciucuri.com offers over 430 000 tests firsthand - from consumers for consumers.

Type of Tyre
Winter tyres
M+S marking
with snow flake symbol
Speed Index
Approved up to 210 km/h
EU Tyre Label
Frequently bought together:
1 x Yokohama W.drive (V902B) 285/65 R17 116H , RPB =

130.60 £

1 x König XD-16 266 =

207.20 £
THE NEW ONE IN THE RANGE OF THE TIRES WINTER: W.drive
As of the autumn, the conditions of circulation are degraded, and the motorists must face various conditions of road: dryness, rain, snow or glaze. To face these varied conditions, YOKOHAMA proposes an extraordinary range of tires winter. With its 3 profiles, the range winter of continuous YOKOHAMA to develop and presents a new tire top-of-the-range winter: W.drive.
Innovating tread
The design of the asymmetrical tread to high-rigidity gets high performances balanced on dryness, the rain or the roads snow-covered. The 3 right grooves (or 4 according to dimensions') support the drainage of water or snow, even molten, and push back the limits of aquaplaning. The paving stones have different rigidities according to their provision on the tread. More rigid on the outside of the profile, they support adherence in the turns on dryness, whereas on the interior, their flexibility take part in adherence on snow.
Innovating plates "3D"
One of the major innovations of W.driveTM resides in the plates "3D "with a surface in polyhedron allowing of great performances on dryness, under the rain or on the snow-covered roads. The single design of the plates makes it possible the blocks of gum to be based the ones on the others, thus preserving the rigidity of the paving stones on a broader surface of contact. In parallel, this technology makes it possible to increase the density of the plates on the surface of the tread, thus multiplying the effect of blade on the snow-covered or icy roads.
Technology of the mixture of gum
The mixture of gum with its "flexible polymers "makes it possible to maintain the flexibility and flexibility thus adherence at low temperature. By integrating "micro silica "in the mixture, one improves rigidity at higher temperature. This very specific association is effective only if integration is homogeneous.
Thanks to extraordinary technology ZERUMATM, exclusive patent of YOKOHAMA, whose secrecy lies in the optimal dispersion of silica in the mixture of gum, the integration of the "micro silica "is optimal, which makes it possible to improve the behavior, motricity and braking some are the conditions of rolling and temperature.
A broad range
With a broad range of 70 references of the 14 "to 19 "and series 65 to 40, W.drive makes it possible to equip the unit with the automobile park. The indices speed go T (190 km/h) with V (240 km/h) and from many dimensions profit from reinforced indices of load and/or edge of protection of rim. With W.driveTM, to face the winter season and its traps is not any more one concern. Some are the conditions of road, each driver can consider each way in a serene way.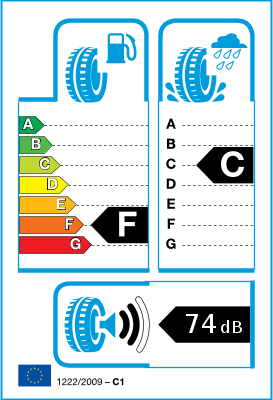 EU Tyre Label and Efficiency Classes
The European Union, under CE 1222/2009, has mandated that all tyres manufactured after the date of July 1 2012 for cars and commercial vehicles include standard EU Tyre Labels classifying them by three performance characteristics:fuel efficiency classified from A to G,wet grip classified from A to G, and noise emission in decibels.
Categories of tyres unaffected by this regulation include: retreaded tyres, professional off-road tyres, racing/sports car tyres, as well as certain types of tyres designed to improve traction such as studded tyres, T-type temporary spare tyres, tyres for cars built before 1990, tyres with a maximum allowed speed of 80km/h, tyres for rims with a diameter less or equal to 254 mm or greater or equal to 635 mm.
This label is intended on one hand to promote economic and ecological efficiency in traffic, as well as increase road safety, and on the other hand to help consumers select appropriate tyres by ensuring a certain degree of product transparency.
Nevertheless, the label has been criticized for only showing a very limited number of characteristics. Professionals argue that tyres have many more features that are important and relevant to road safety, including but not limited to aquaplaning properties, driving stability, service life, product properties on wet and dry roads other than wet grip, properties on snow.
Tyre manufacturers suggest that the test results from various institutions and industry magazines should remain a very important source of information for the end consumer, because they focus on and rate a wide variety of tyre properties and features.