Avon
ZV5
215/45 R17 87W with Rim flange protection
availability
at the moment, this product is not in stock
Tyres
Summer tyres
Tyre label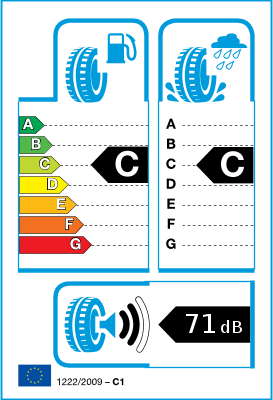 Tyre label / Efficiency class
We sell new cars tyres which are not older than 2 years.
Test Message
Tyres with the same item number, whether or not they are labeled, can be fitted on the same axle as they have the same efficiency class. Proof is available from the involved manufacturers.
The tyre efficiency class values are sent to us by the manufacturer along with the item number and the IP code. We forward the item number and these values to our customers regardless the manufacture date of the tyres excepting articles that are older than 2 years.
Please note that this tyre may not be labelled as it was manufactured before 01.07.2012.
In this case, the following efficiency classes are valid: Roll resistance: C, Wet grip: C, Noise emissions: 71 dB.
If the tyre was produced after 01.07.2012, the label from the chart on the left is valid.
Catering for a wide range of vehicles, from small hatchbacks to large saloons, as well as MPVs and sportscars, the new Avon ZV5 boasts significant improvements in handling, fuel efficiency and road noise, thanks to the use of the latest silica compounds and computer-aided design techniques.
Designed to offer premium performance in a variety of conditions, the Avon ZV5 has been developed using advanced tyre technology combined with Avon's 100 years'-plus experience of producing tyres.
Asymmetric tread pattern
The asymmetric tread pattern has been enhanced with wide, open slots on the shoulders improving handling in dry weather, while bold, open circumferential grooves help reduce the chances of aquaplaning in deep water. The tread blocks and siping have been designed to cut through thin films of water to further enhance braking performance.
Meanwhile, the 'Tri-Arc' tread profile creates more uniform pressure contact with the road, and a stiffer lower sidewall layer sharpens steering response. All of which means better grip, improved resistance to aquaplaning in deep puddles, shorter braking distance and an increased feeling of confidence for the driver.
Responsive and quiet
Tested to extremes on a wide range of cars on real road conditions throughout Europe, as well as some of Europe's premier proving grounds, the ZV5 provides outstanding performance on dry roads.
Use of the latest computer design software has also allowed the optimisation of the tread block formation to produce less resistance, cutting down on road noise. In addition, specially shaped shoulder blocks have been incorporated to improve handling stability, while the internal construction of the tyre is designed to provide excellent steering response.
Key Points of the Avon ZV5
Outstanding grip in the wet and the dry
Progressive, predictable handling
Excellent braking performance, wet and dry
Quiet running