Tyres
Summer tyres
Tyre label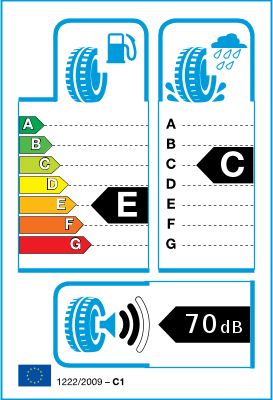 Tyre label / Efficiency class
We sell new cars tyres which are not older than 2 years.
Test Message
Tyres with the same item number, whether or not they are labeled, can be fitted on the same axle as they have the same efficiency class. Proof is available from the involved manufacturers.
The tyre efficiency class values are sent to us by the manufacturer along with the item number and the IP code. We forward the item number and these values to our customers regardless the manufacture date of the tyres excepting articles that are older than 2 years.
Please note that this tyre may not be labelled as it was manufactured before 01.07.2012.
In this case, the following efficiency classes are valid: Roll resistance: E, Wet grip: C, Noise emissions: 70 dB.
If the tyre was produced after 01.07.2012, the label from the chart on the left is valid.
Good all round! And value for money
For compact-class and middle-class vehicles. Performance, steering precision, long service life. Thanks to minimal wear you can be sure to go further – with regard to mileage as well as superb driving comfort. The Brillantis 2 provides the perfect combination of economy and long service life. Balanced driving characteristics and a precise steering response make this tire a good all-round solution.
The Brillantis 2 features:
High mileage performance
Greater safety
Increased aquaplaning safety
Short braking distances
Fits perfectly for example to Skoda Citigo, VW Golf VII and Renault Mégane
Technical details:
Flat contour, good ground pressure distribution
High mileage performance forprolonged driving fun
Pleasantly low rolling noise
High mileage.
The flat contour of the Brillantis 2 evenly distributes the ground pressure. This increases mileage.
Greater safety during critical steering manoeuvres.
The asymmetrical tread with a solid outer shoulder gives the tyre good transverse rigidity in the outer shoulder blocks. The result: greater safety for critical steering manoeuvres.
Greater protection against aquaplaning and shorter braking distances on wet roads.
Continuous lateral grooves on the inside and narrow grooves in the blocks allow water to flow away freely. This increases aquaplaning prevention and shortens the braking distances on wet roads.
Low rolling noise.
The reduced width of grooves in the shoulder area and a lower volume of transverse grooves make road noise pleasantly quiet.