BF Goodrich
g-Force Winter 2
Tyres
Winter tyres
M+S marking
with snow flake symbol
Tyre label
Frequently bought together:
1 x BF Goodrich g-Force Winter 2 225/55 R16 99H XL =

88.61 £

1 x DeltiGrip Deltigrip eco - Quality Snow Chain for your car =

26.06 £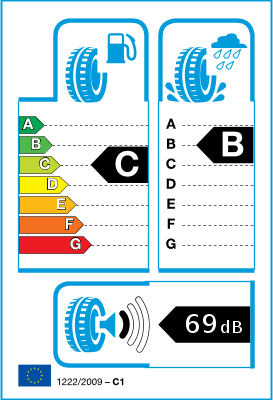 Tyre label / Efficiency class
We sell new cars tyres which are not older than 2 years.
Test Message
Tyres with the same item number, whether or not they are labeled, can be fitted on the same axle as they have the same efficiency class. Proof is available from the involved manufacturers.
The tyre efficiency class values are sent to us by the manufacturer along with the item number and the IP code. We forward the item number and these values to our customers regardless the manufacture date of the tyres excepting articles that are older than 2 years.
Please note that this tyre may not be labelled as it was manufactured before 01.07.2012.
In this case, the following efficiency classes are valid: Roll resistance: C, Wet grip: B, Noise emissions: 69 dB.
If the tyre was produced after 01.07.2012, the label from the chart on the left is valid.
Make winter your playground
With the new BFGoodrich® g-Force Winter 2 tyre, driving is more of a pleasure even in winter. More grip, better braking response, excellent control on snowy roads, superior road holding on ice. Velvet printing on its sidewalls brings a sophisticated design to express your style and increase tenfold your driving pleasure even in the most extreme conditions.
FUN & SAFE
Safety increased on ice and snow:
Its new network of sipes ensures better traction and road holding on snow and guarantees shorter braking distance on icy roads.
Among the top levels of labelling on the market
The B rating awarded to this tyre confirms its outstanding safety level for braking on wet roads.
SMART STYLE
Extra style
The velvet print sidewalls of this new tyre will make you regret the return to your summer tyres.