Continental
ContiWinterContact TS 760
135/70 R15 70T , with kerbing rib
Tyres
Winter tyres
M+S marking
Tyre label
Frequently bought together:
1 x Continental ContiWinterContact TS 760 135/70 R15 70T , with kerbing rib =

77.80 £

1 x Snö Pro Sno-pro socks =

40.79 £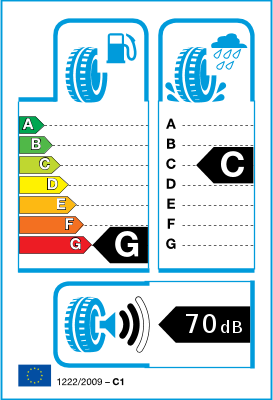 Tyre label / Efficiency class
We sell new cars tyres which are not older than 2 years.
Test Message
Tyres with the same item number, whether or not they are labeled, can be fitted on the same axle as they have the same efficiency class. Proof is available from the involved manufacturers.
The tyre efficiency class values are sent to us by the manufacturer along with the item number and the IP code. We forward the item number and these values to our customers regardless the manufacture date of the tyres excepting articles that are older than 2 years.
Please note that this tyre may not be labelled as it was manufactured before 01.07.2012.
In this case, the following efficiency classes are valid: Roll resistance: E, Wet grip: C, Noise emissions: 70 dB.
If the tyre was produced after 01.07.2012, the label from the chart on the left is valid.
Its special profile design with many deep ribs as well as a blocking line, ensures that this tyre provides a safe and secure driving experience in snow and ice conditions.

The ContiWinterContact TS 760 is also ideal for rain or slush, setting high standards. Dry roads are mastered equally well, using a well-developed profile, resulting in a high driving safety and comfort.

Due to its special constuction, the tyre has a low running resistance which increases the performance and reduces the fuelconsumption.

Top results in the tests of leading automobile magazines confirm the high quality of the ContiWinterContact TS 760. In addition, leading manufacturers such as VW, Ford, Opel, Mercedes-Benz, Renault and other recommend this quality product.