availability
at the moment, this product is not in stock
Tyres
Summer tyres
Tyre label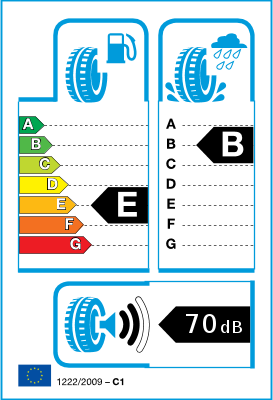 Tyre label / Efficiency class
We sell new cars tyres which are not older than 2 years.
Test Message
Tyres with the same item number, whether or not they are labeled, can be fitted on the same axle as they have the same efficiency class. Proof is available from the involved manufacturers.
The tyre efficiency class values are sent to us by the manufacturer along with the item number and the IP code. We forward the item number and these values to our customers regardless the manufacture date of the tyres excepting articles that are older than 2 years.
Please note that this tyre may not be labelled as it was manufactured before 01.07.2012.
In this case, the following efficiency classes are valid: Roll resistance: E, Wet grip: B, Noise emissions: 70 dB.
If the tyre was produced after 01.07.2012, the label from the chart on the left is valid.
Dayton Touring 2
Taking you further
You and your loved ones deserve the best protection on the road. Dayton Touring tyres therefore offer balanced, reliable performance in a whole range of different conditions. This new, sturdy design offers outstanding braking and steering properties in the wet and brings you safely to your destination no matter what awaits you.
Best-in-class handling and braking in wet conditions
Great resistance to aquaplaning
Built to combat irregular wear throughout its lifespan
Excellent value for money