Delticom efficiency index
The efficiency class label evaluated based on customer preferences.
Delticom centralized survey results from more than 40.000 customers from 15 European countries and created this index.
Client reviews rating
More than 5 billion kilometers. Testcauciucuri.com offers over 430 000 tests firsthand - from consumers for consumers.

Type of Tyre
Summer tyres
Speed Index
Approved up to 180 km/h
EU Tyre Label
Dunlop Econodrive
High mileage and fuel efficiency for economical driving
The new Dunlop Econodrive light truck tire reduces your cost of ownership – without reducing performance
The Dunlop EconoDrive has been engineered to reduce the cost of ownership, through increased mileage and reduced rolling resistance. The enhanced tread design ensures improved water evacuation improving wet performance and wet braking.
Designed for lower cost of ownership
Long-wearing compound
Excellent durability and handling
Wet-weather performance
Designed for lower cost of ownership. For cost-conscious drivers and fleet managers, the Dunlop Econodrive has been developed to deliver significant improvements in mileage and fuel efficiency.
Durability and handling. The Dunlop Econodrive is built on a stiff and durable carcass designed for long life with enhanced cornering and braking. Reinforced sidewalls protect from kerb damage while improving rolling resistance.
Long-wearing compound. Our specialised tread compound features carbon particles for improved tread stiffness and on-road friction. Silica particles help to lower rolling resistance, resulting in better fuel economy.
Wet weather performance. The four-rib tread pattern delivers excellent performance on wet roads. Deep central grooves and an open shoulder design combine for rapid water dispersal, reducing the risk of aquaplaning.
Technology (Features):
Silica in the compound helps lower rolling resistance while carbon black helps to give longer mileage
Stiffer sidewall helps to maintain even tread footprint, generating less heat build up
Open shoulder and transverse grooves to enhance water evacuation and performance in the wet
Consumer benefits:
Even wear of the tyre leading to longer mileage
Enhanced rolling resistance
Thicker sidewall helps to resist curb damage
Improved wet performance and braking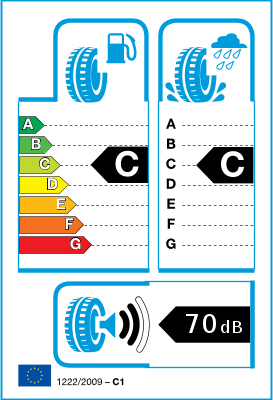 EU Tyre Label and Efficiency Classes
The European Union, under CE 1222/2009, has mandated that all tyres manufactured after the date of July 1 2012 for cars and commercial vehicles include standard EU Tyre Labels classifying them by three performance characteristics:fuel efficiency classified from A to G,wet grip classified from A to G, and noise emission in decibels.
Categories of tyres unaffected by this regulation include: retreaded tyres, professional off-road tyres, racing/sports car tyres, as well as certain types of tyres designed to improve traction such as studded tyres, T-type temporary spare tyres, tyres for cars built before 1990, tyres with a maximum allowed speed of 80km/h, tyres for rims with a diameter less or equal to 254 mm or greater or equal to 635 mm.
This label is intended on one hand to promote economic and ecological efficiency in traffic, as well as increase road safety, and on the other hand to help consumers select appropriate tyres by ensuring a certain degree of product transparency.
Nevertheless, the label has been criticized for only showing a very limited number of characteristics. Professionals argue that tyres have many more features that are important and relevant to road safety, including but not limited to aquaplaning properties, driving stability, service life, product properties on wet and dry roads other than wet grip, properties on snow.
Tyre manufacturers suggest that the test results from various institutions and industry magazines should remain a very important source of information for the end consumer, because they focus on and rate a wide variety of tyre properties and features.