Tyres
Summer tyres
Tyre label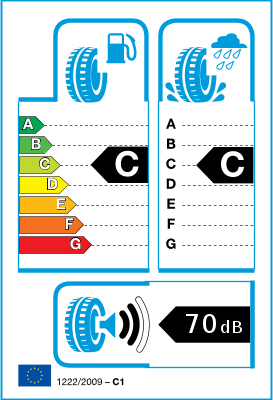 Tyre label / Efficiency class
We sell new cars tyres which are not older than 2 years.
Test Message
Tyres with the same item number, whether or not they are labeled, can be fitted on the same axle as they have the same efficiency class. Proof is available from the involved manufacturers.
The tyre efficiency class values are sent to us by the manufacturer along with the item number and the IP code. We forward the item number and these values to our customers regardless the manufacture date of the tyres excepting articles that are older than 2 years.
Please note that this tyre may not be labelled as it was manufactured before 01.07.2012.
In this case, the following efficiency classes are valid: Roll resistance: C, Wet grip: C, Noise emissions: 70 dB.
If the tyre was produced after 01.07.2012, the label from the chart on the left is valid.
Dunlop Econodrive
High mileage and fuel efficiency for economical driving
The new Dunlop Econodrive light truck tire reduces your cost of ownership – without reducing performance
The Dunlop EconoDrive has been engineered to reduce the cost of ownership, through increased mileage and reduced rolling resistance. The enhanced tread design ensures improved water evacuation improving wet performance and wet braking.
Designed for lower cost of ownership
Long-wearing compound
Excellent durability and handling
Wet-weather performance
Designed for lower cost of ownership. For cost-conscious drivers and fleet managers, the Dunlop Econodrive has been developed to deliver significant improvements in mileage and fuel efficiency.
Durability and handling. The Dunlop Econodrive is built on a stiff and durable carcass designed for long life with enhanced cornering and braking. Reinforced sidewalls protect from kerb damage while improving rolling resistance.
Long-wearing compound. Our specialised tread compound features carbon particles for improved tread stiffness and on-road friction. Silica particles help to lower rolling resistance, resulting in better fuel economy.
Wet weather performance. The four-rib tread pattern delivers excellent performance on wet roads. Deep central grooves and an open shoulder design combine for rapid water dispersal, reducing the risk of aquaplaning.
Technology (Features):
Silica in the compound helps lower rolling resistance while carbon black helps to give longer mileage
Stiffer sidewall helps to maintain even tread footprint, generating less heat build up
Open shoulder and transverse grooves to enhance water evacuation and performance in the wet
Consumer benefits:
Even wear of the tyre leading to longer mileage
Enhanced rolling resistance
Thicker sidewall helps to resist curb damage
Improved wet performance and braking