Falken
Eurowinter HS449
235/45 R17 97V XL , with rim protection (MFS) BLT
availability
at the moment, this product is not in stock
Tyres
Winter tyres
M+S marking
with snow flake symbol
Tyre label
Frequently bought together:
1 x Falken Eurowinter HS449 235/45 R17 97V XL , with rim protection (MFS) BLT =

250.40 £

1 x DeltiGrip Deltigrip eco - Quality Snow Chain for your car =

26.06 £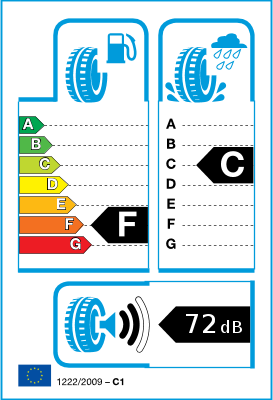 Tyre label / Efficiency class
We sell new cars tyres which are not older than 2 years.
Test Message
Tyres with the same item number, whether or not they are labeled, can be fitted on the same axle as they have the same efficiency class. Proof is available from the involved manufacturers.
The tyre efficiency class values are sent to us by the manufacturer along with the item number and the IP code. We forward the item number and these values to our customers regardless the manufacture date of the tyres excepting articles that are older than 2 years.
Please note that this tyre may not be labelled as it was manufactured before 01.07.2012.
In this case, the following efficiency classes are valid: Roll resistance: F, Wet grip: C, Noise emissions: 72 dB.
If the tyre was produced after 01.07.2012, the label from the chart on the left is valid.
Falken Eurowinter HS449
Today's winter tyres are expected to fulfil an ever-growing range of requirements. Safety in all weather and road conditions is still paramount. We took up the challenge and came up with the EUROWINTER HS449 – an all-round winner of a winter tyre, with superlative grip and extra-safe braking characteristics.
FEATURES AND BENEFITS
Innovative high-silica compounds
Improved polymers
5-phase shifted tread bars minimise drive-by noise
New close-set three-dimensional sipes deliver performance and improve traction on ice and snow
Intelligent tread design with 3D sipe technology
Maximum contact with snow, which increases snow traction.
Two wide circumferential grooves and high-volume lateral grooves
Excellent wet performance & high levels of aquaplaning resistance.
Winter-optimised silica compound
Optimal grip in winter temperatures and conditions.