Tyres
Summer tyres
M+S marking
Tyre label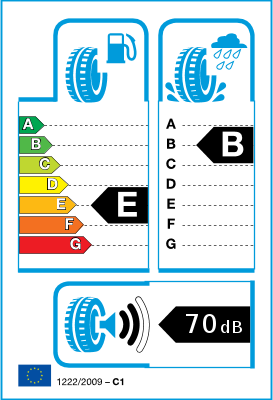 Tyre label / Efficiency class
We sell new cars tyres which are not older than 2 years.
Test Message
Tyres with the same item number, whether or not they are labeled, can be fitted on the same axle as they have the same efficiency class. Proof is available from the involved manufacturers.
The tyre efficiency class values are sent to us by the manufacturer along with the item number and the IP code. We forward the item number and these values to our customers regardless the manufacture date of the tyres excepting articles that are older than 2 years.
Please note that this tyre may not be labelled as it was manufactured before 01.07.2012.
In this case, the following efficiency classes are valid: Roll resistance: E, Wet grip: B, Noise emissions: 70 dB.
If the tyre was produced after 01.07.2012, the label from the chart on the left is valid.
Federal Formoza GIO
Federal Tyres' new PCR tyre, adopts multiple pitches, enclosed grooves on tyre shoulder and evenly cut sipes for lowering noises, special compound for enhancing traction and a brand new profile for avoiding uneven wear. It is a tyre features outstanding handling, low noise levels and fuel economy.
Honeycomb design on sidewall
With more space for heat dissipation, both the heat tyre creates and rolling resistance coefficient are reduced.
Heat-lowering material added to special compound
Silica included to cool the heat tyre generates while travelling as well as Rolling Resistance Coefficient.
Blade-shaped design enhance water dispersion and efficiency of braking in the wet.
Multi-pitch arrangement
Interrupting the sound frequency created when driving and lowering noise levels, increasing tranquility.
Closed-groove design on shoulder avoids noises and gives better tranquility when travelling.
Even grooves cut on block
Grooves cut evenly on block to balance tyre rigidity and lower noise levels.