Type of Tyre
All-season tyres
M+S marking
with snow flake symbol
EU Tyre Label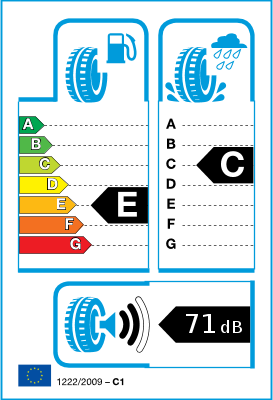 Tyre label / Efficiency class
We sell new cars tyres which are not older than 2 years.
Test Message
Tyres with the same item number, whether or not they are labeled, can be fitted on the same axle as they have the same efficiency class. Proof is available from the involved manufacturers.
The tyre efficiency class values are sent to us by the manufacturer along with the item number and the IP code. We forward the item number and these values to our customers regardless the manufacture date of the tyres excepting articles that are older than 2 years.
Please note that this tyre may not be labelled as it was manufactured before 01.07.2012.
In this case, the following efficiency classes are valid: Roll resistance: E, Wet grip: C, Noise emissions: 71 dB.
If the tyre was produced after 01.07.2012, the label from the chart on the left is valid.
Firestone Multiseason
Designed to perform in all conditions, so the weather never catches you by surprise.
The extra convenience and cost savings of a single set of tyres, all year round.
Compliant with winter tyre legislation in all relevant countries.
Freedom to drive in all conditions
The Multiseason is safe when you need it the most by combining an overall easy-going and forgiving character on the road with a readiness for sudden weather change.
Its development started with a base pattern proven strong in wet and snow conditions. Thanks to the right amount of grooves for efficient water evacuation and the use of Nano-ProTech© technology in the compound, the Multiseason provides good wet grip and excellent resistance to hydroplaning, which means that it is able to evacuate large amounts of water quickly so you don't lose control of your car.
The Multiseason also brings you confidence when driving on snow, as demonstrated by the M+S and 3 Peak Snowflake marks. Thanks to the right pattern to provide solid traction, handling and braking when driving on frost and snow, the Multiseason makes sure that drivers are free to take the road under any conditions. 
Being a strong performer in wet and winter conditions is however not a trade-off for enjoying the daily ride! The Multiseason is ideal for manoeuvering in cities and with its linear steering and excellent stability, you can confidently engage any corner, making the drive smooth and comfortable.