Tyres
Summer tyres
Tyre label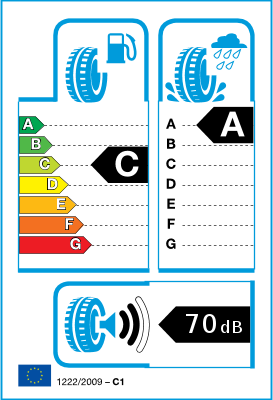 Tyre label / Efficiency class
We sell new cars tyres which are not older than 2 years.
Test Message
Tyres with the same item number, whether or not they are labeled, can be fitted on the same axle as they have the same efficiency class. Proof is available from the involved manufacturers.
The tyre efficiency class values are sent to us by the manufacturer along with the item number and the IP code. We forward the item number and these values to our customers regardless the manufacture date of the tyres excepting articles that are older than 2 years.
Please note that this tyre may not be labelled as it was manufactured before 01.07.2012.
In this case, the following efficiency classes are valid: Roll resistance: C, Wet grip: A, Noise emissions: 70 dB.
If the tyre was produced after 01.07.2012, the label from the chart on the left is valid.
Firestone Roadhawk
BUILT TO PERFORM LONGER
Performance decays over life – from agility to outright ability. The Firestone Roadhawk tyre retains its performance characteristics in road conditions where wet weather, heavy traffic, sudden braking and motorway speed are all part of the daily mix. That means you can be sure that your tyre will provide the performance you rely on for its whole life.
Best in class wet grip
Achieving the top "A" EU-label grade for wet grip
Best in class dry braking
Up to 3 meter shorter braking distance vs. its main competitor*
Built to perform longer
Independently tested by TÜV SÜD, Roadhawk outperforms its competitors in the wet at 20.000 KM**
With up to 20% better wear performance***
*Compared to UniRoyal Rainsport 3, Kleber Dynaxer HP3, Fulda EcoControl HP, Nexen NBlue HD+. Test carried out by TÜV SÜD on the request of Bridgestone between July and September 2016 at ATP Papenburg on tyre size 205/55 R16 91V. Tyres purchased on the European market by TÜV SÜD. Test car: VW Golf 7. Report No. 713086643
**Outperforms main competitors in aquaplaning straight line and aquaplaning curve. Test carried out by TÜV SÜD on the request of Bridgestone between July and September 2016 with the tyres Firestone Roadhawk, UniRoyal Rainsport 3, Kleber Dynaxer HP3, Fulda EcoControl HP, Nexen NBlue HD+. Tyres purchased on the European market by TÜV SÜD. Testing performed on fleet cars VW Golf 7, driven for 20,000km. Report No. 713086643-BM.
***Compared to the Firestone TZ300. Internal test carried out at Bridgestone's testing ground in Rome in March 2016, on size 205/55 R16 91V