Fulda
SportControl 2
225/35 R19 88Y XL with rim protection (MFS)
Tyres
Summer tyres
Tyre label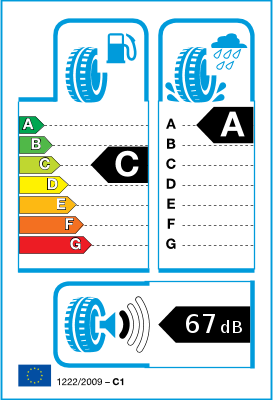 Tyre label / Efficiency class
We sell new cars tyres which are not older than 2 years.
Test Message
Tyres with the same item number, whether or not they are labeled, can be fitted on the same axle as they have the same efficiency class. Proof is available from the involved manufacturers.
The tyre efficiency class values are sent to us by the manufacturer along with the item number and the IP code. We forward the item number and these values to our customers regardless the manufacture date of the tyres excepting articles that are older than 2 years.
Please note that this tyre may not be labelled as it was manufactured before 01.07.2012.
In this case, the following efficiency classes are valid: Roll resistance: C, Wet grip: A, Noise emissions: 67 dB.
If the tyre was produced after 01.07.2012, the label from the chart on the left is valid.
Sporty driving on wet and dry roads. For ultra high performance cars.
The SportControl 2 is the improved UHP tire designed for sporty driving. Benefit from short braking distance on dry and excellent control on wet. You'll also enjoy reduced fuel consumption.
Sporty driving capability on dry and wet roads
Optimized tread footprint for high mileage
German high technology at a great value for money
Short braking distance on dry
Braking when its needed. The advanced tread design allows for a balanced pressure distribution throughout the tread delivering optimized contact between the tire and the road.
Excellent control on wet.
Drive with confidence when it matters the most. Multiple AquaFlow grooves allow for efficient water evacuation while the engineered silica tread compound provides traction on wet roads.
Sporty driving on dry roads
Get the most from your ultra high performance car. The wide and stiff outside shoulders reduce tire tread deformation delivering better steering precision while cornering.
High mileage
The optimized tread footprint and cavity design (Black, Wide, Strong) allows for an even tread wear delivering high mileage.
Reduced fuel consumption
The low weight construction and engineered compound technology created for this tire control the energy loss allowing for cost saving over the tire's lifetime.