Tyres
Summer tyres
Tyre label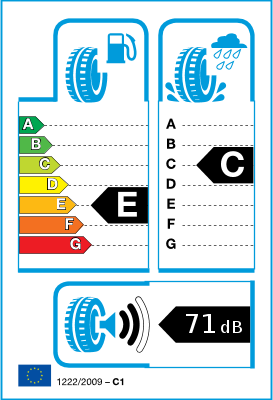 Tyre label / Efficiency class
We sell new cars tyres which are not older than 2 years.
Test Message
Tyres with the same item number, whether or not they are labeled, can be fitted on the same axle as they have the same efficiency class. Proof is available from the involved manufacturers.
The tyre efficiency class values are sent to us by the manufacturer along with the item number and the IP code. We forward the item number and these values to our customers regardless the manufacture date of the tyres excepting articles that are older than 2 years.
Please note that this tyre may not be labelled as it was manufactured before 01.07.2012.
In this case, the following efficiency classes are valid: Roll resistance: E, Wet grip: C, Noise emissions: 71 dB.
If the tyre was produced after 01.07.2012, the label from the chart on the left is valid.
Gislaved Ultra Speed
Ultra - up to 300 km/h. For middle-class and upper-class vehicles.

The Ultra*Speed - as a modern tire for large family and luxury vehicles - combines optimal handling features with high mileage. As a UHP tire for speeds of up to 300 km/h this one will please the motorist, guaranteeing driving pleasure, long service life and offering harmonious ride comfort - simply Ultra. Fits  perfectly for example to Audi A3, BMW Series 1 and Skoda Oktavia.

Optimal handling:
Macro block in the shoulder section
Enlarged contact area and improved road grip
Convincing behaviour in curves
More mileage:
High percentage of positive pattern in the central pattern area
Flat tire contour
Wear-resistant tire compound
More comfort:
Varying block lengths and block staggering
Pattern design optimised to lessen noise