Tyres
Summer tyres
M+S marking
Tyre label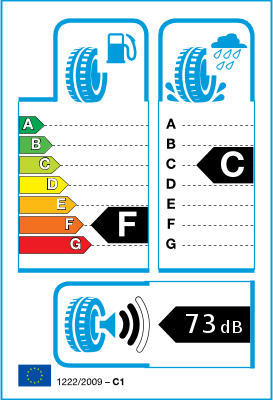 Tyre label / Efficiency class
We sell new cars tyres which are not older than 2 years.
Test Message
Tyres with the same item number, whether or not they are labeled, can be fitted on the same axle as they have the same efficiency class. Proof is available from the involved manufacturers.
The tyre efficiency class values are sent to us by the manufacturer along with the item number and the IP code. We forward the item number and these values to our customers regardless the manufacture date of the tyres excepting articles that are older than 2 years.
Please note that this tyre may not be labelled as it was manufactured before 01.07.2012.
In this case, the following efficiency classes are valid: Roll resistance: F, Wet grip: C, Noise emissions: 73 dB.
If the tyre was produced after 01.07.2012, the label from the chart on the left is valid.
A 4x4 tire with the strength to take on all terrain
The Wrangler AT/SA+ is a rugged 4x4 tire that offers high performance on and off the road. The new on/off-road tyre featuring SilentArmor Technology and developed in partnership with Original Equipment Manufacturers. This product provides good all round performance suitable for a mixture of on/off-road conditions.
Advanced puncture and cut resistance. Tackle rough terrain with confidence, thanks to Goodyear's SilentArmour Technology. Sidewalls are reinforced to increase resistance to cuts and punctures.
Confident grip on wet roads. The high blade density tread features extra biting edges to improve grip on wet surfaces. Optimised wet grip and mileage with good off-road performance.
Improved mud traction for off-road driving. Handle rough off-road environments with a tread that quickly evacuates mud, giving you hard-working traction where it counts most. The Wrangler AT/SA's polymer blend enhances off-road performance. Quiet, comfortable ride Low noise with optimised block sequence and shifting for a comfortable ride.