Tyres
All-season tyres
M+S marking
with snow flake symbol
Tyre label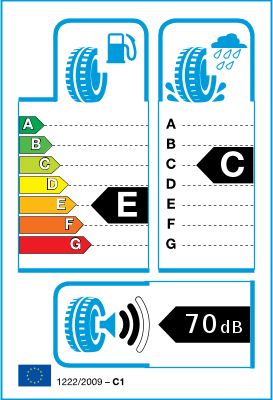 Tyre label / Efficiency class
We sell new cars tyres which are not older than 2 years.
Test Message
Tyres with the same item number, whether or not they are labeled, can be fitted on the same axle as they have the same efficiency class. Proof is available from the involved manufacturers.
The tyre efficiency class values are sent to us by the manufacturer along with the item number and the IP code. We forward the item number and these values to our customers regardless the manufacture date of the tyres excepting articles that are older than 2 years.
Please note that this tyre may not be labelled as it was manufactured before 01.07.2012.
In this case, the following efficiency classes are valid: Roll resistance: E, Wet grip: C, Noise emissions: 70 dB.
If the tyre was produced after 01.07.2012, the label from the chart on the left is valid.
Kleber Citilander - Trust all year round in SUV mode
STRENGTH AND SAFETY
Overcome all daily obstacles in complete safety
Its casing that is 20%* stronger compared to passenger car ranges can stand up to any test in an urban setting. Its wide longitudinal grooves effectively remove water and limit the risks of aquaplaning.
* Increased breaking load of the carcass tissue compared to the Dynaxer HP3 range tissue measured on the 205/70 R 15 and 215/65 R 16 sizes.
VERSATILITY
Enjoy an excellent traction on all surfaces in summer as well as winter
Its high tread pattern, lateral grip and numerous lateral grooves B provide outstanding traction on all surfaces: tarmac, gravel, mud, snow. Its 3PMSF** and M+S*** markings make it a truly all seasons tyre, ideal for summer and winter alike.
** 3 Peak Mountain Snow Flake *** Mud+Snow
LONGEVITY
Benefit from an outstanding durability
Its asymmetric tread provides optimum distribution of rigidity, ensuring slow and regular wear. Its tread pattern depth ensures a better lifespan.