availability
at the moment, this product is not in stock
Tyres
Summer tyres
Tyre label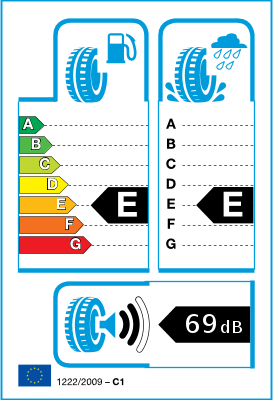 Tyre label / Efficiency class
We sell new cars tyres which are not older than 2 years.
Test Message
Tyres with the same item number, whether or not they are labeled, can be fitted on the same axle as they have the same efficiency class. Proof is available from the involved manufacturers.
The tyre efficiency class values are sent to us by the manufacturer along with the item number and the IP code. We forward the item number and these values to our customers regardless the manufacture date of the tyres excepting articles that are older than 2 years.
Please note that this tyre may not be labelled as it was manufactured before 01.07.2012.
In this case, the following efficiency classes are valid: Roll resistance: E, Wet grip: E, Noise emissions: 69 dB.
If the tyre was produced after 01.07.2012, the label from the chart on the left is valid.
The SOLUS KH17 is a contemporary performance tyre for such top selling hatchbacks and saloons as Ford's Fiesta and Focus, Volkswagen's Polo and Golf and Vauxhall's Corsa and Astra. It has already won the approval of a number of major European car magazines and was awarded Best Buy status by Which? Magazine.

The SOLUS KH17 features three wide longitudinal grooves for optimum wet weather performance and exceptional stability thanks to reinforced tread blocks equipped with waved semi-grooves. The KH17 is available in a range of sizes from 155/65R13 to 225/50R17 and speed ratings H to V.
Proven high levels of wet and dry traction
Lower noise levels
Improved ride comfort