availability
at the moment, this product is not in stock
Tyres
Summer tyres
Tyre label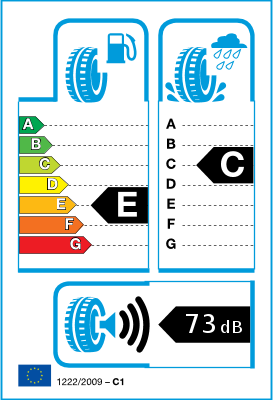 Tyre label / Efficiency class
We sell new cars tyres which are not older than 2 years.
Test Message
Tyres with the same item number, whether or not they are labeled, can be fitted on the same axle as they have the same efficiency class. Proof is available from the involved manufacturers.
The tyre efficiency class values are sent to us by the manufacturer along with the item number and the IP code. We forward the item number and these values to our customers regardless the manufacture date of the tyres excepting articles that are older than 2 years.
Please note that this tyre may not be labelled as it was manufactured before 01.07.2012.
In this case, the following efficiency classes are valid: Roll resistance: E, Wet grip: C, Noise emissions: 73 dB.
If the tyre was produced after 01.07.2012, the label from the chart on the left is valid.
All Season Highway Crossover & Sport Utility Tire
Sure stability and performance at highway speeds. T, H, V, and W Speed rated so you'll feel confident at highway velocity, the CLV2 also features enhanced stability tread design and stylishly civilized good looks. You'll own the road. The Largest Selection of Staggered Tire Sizes for Replacement and Original Equipment Fitments.
Features & Benefits
Wet traction grooves: Four wide longitudinal grooves speed water evacuation for great handling and cornering on wet pavement
Solid stability rib: The continuous center rib ensures straight-line driving stability with just enough siping to further improve high-speed performance
Stable shoulder design: The large shoulders give you the contact patch you need for sure cornering and stability
Grip optimized grooves: The design of the CLV2's lateral and longitudinal grooves delivers extra gripping ability, more control, and better braking performance