Delticom efficiency index
The efficiency class label evaluated based on customer preferences.
Delticom centralized survey results from more than 40.000 customers from 15 European countries and created this index.
Client reviews rating
More than 5 billion kilometers. Testcauciucuri.com offers over 430 000 tests firsthand - from consumers for consumers.

Matador
MP47 Hectorra 3
Matador - Tire made in Europe with German technology
Type of Tyre
Summer tyres
Speed Index
Approved up to 300 km/h
EU Tyre Label
Excellent driving safety on both wet and dry roads
A new generation of summer passenger tyres, a wide range of sizes for 14- to 20-inch wheels.
We are presenting a new generation of high-speed summer passenger tyres MP 47 Hectorra 3 designed specifically for large-size (E-segment) and luxury (F-segment) passenger cars. 
A combination of state-of-the-art technologies and modern asymmetric non-directional tread pattern provides for excellent handling and safe braking on dry and wet road surfaces. The tyre also features improved mileage performance and driving comfort.
Designed for 14- to 20-inch wheels, MP47 Hectorra 3 will be available in a wide range of 50 sizes, in the speed categories "H" up to 210 km/h, "V" up to 240 km/h and "Y" up to 300 km/h, and in widths ranging from 185 mm up to 265 mm. 
The MP47 Hectorra 3 tyre is fitted with the "Summer TWI" (Summer Tread Wear Indicator) of 3 mm in height, located in the tread groove on several spots along the tyre's circumference. When the summer tyre reaches the 3-mm limit, the indicator indicates the need to replace the existing tyre for a new summer tyre in order to preserve driving safety.
For middle-class and luxury vehicles and SUVs. Matador brand with long tradition, wide portfolio and reliable performance. High level of driving safety in the wet. Fits perfectly for example to Skoda Octavia, VW Passat and VW Tiguan.
Technical Highlights – Driving Safety
Feature
Four wide longitudinal grooves.
Effect
Better water draining due to enhanced water volume capacity in the grooves.
Benefit
Reduced risk of aquaplaning and thus increased driving safety on wet roads.
Technical Highlights – Braking and Handling
Feature
Stiff blocks and ribs
Effect
Improved transmission of traction and braking forces onto the road.
Direct steering response.
Benefit
Short braking distances on dry roads.
Good handling.
Technical Highlights – Wear Performance
Feature
Optimised tread pattern in terms of material distribution and stiffness variation between pattern elements.
Effect
Even pressure distribution in the contact patch.
Benefit
Even wear shape which results in an enhanced mileage performance.
Technical Highlights – Comfort
Feature
Closed outside shoulder.
Effect
Noise generated by pattern elements in the center of the contact patch is reduced.
Benefit
Increased driving comfort as well as reduced environmental pollution due to reduced noise generation from the tyre.
Technical Highlights – Additional Features
Summer Tread Wear Indicator (STWI)
Early recognition of when the tyre replacement is recommended for a sufficient wet performance.
Effect
Noise generated by pattern elements in the center of the contact patch is reduced.
Benefit
Supporting safe driving.
Sidewall Design
MP47 Hectorra 3 carries a modern design element on its sidewall – a car symbol that allows marking the tyre's position on the vehicle. This feature will be appreciated by drivers and car service staff especially while performing seasonal change of tyres.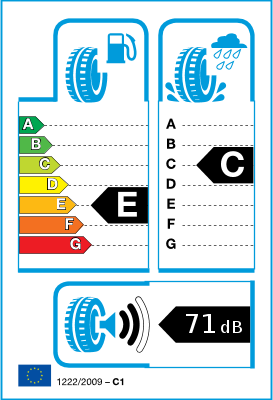 EU Tyre Label and Efficiency Classes
The European Union, under CE 1222/2009, has mandated that all tyres manufactured after the date of July 1 2012 for cars and commercial vehicles include standard EU Tyre Labels classifying them by three performance characteristics:fuel efficiency classified from A to G,wet grip classified from A to G, and noise emission in decibels.
Categories of tyres unaffected by this regulation include: retreaded tyres, professional off-road tyres, racing/sports car tyres, as well as certain types of tyres designed to improve traction such as studded tyres, T-type temporary spare tyres, tyres for cars built before 1990, tyres with a maximum allowed speed of 80km/h, tyres for rims with a diameter less or equal to 254 mm or greater or equal to 635 mm.
This label is intended on one hand to promote economic and ecological efficiency in traffic, as well as increase road safety, and on the other hand to help consumers select appropriate tyres by ensuring a certain degree of product transparency.
Nevertheless, the label has been criticized for only showing a very limited number of characteristics. Professionals argue that tyres have many more features that are important and relevant to road safety, including but not limited to aquaplaning properties, driving stability, service life, product properties on wet and dry roads other than wet grip, properties on snow.
Tyre manufacturers suggest that the test results from various institutions and industry magazines should remain a very important source of information for the end consumer, because they focus on and rate a wide variety of tyre properties and features.