Delticom efficiency index
The efficiency class label evaluated based on customer preferences.
Delticom centralized survey results from more than 40.000 customers from 15 European countries and created this index.
Client reviews rating
More than 5 billion kilometers. Testcauciucuri.com offers over 430 000 tests firsthand - from consumers for consumers.

Matador
MP54 Sibir Snow
Matador - Tire made in Europe with German technology
Type of Tyre
Winter tyres
M+S marking
with snow flake symbol
Speed Index
Approved up to 190 km/h
EU Tyre Label
Frequently bought together:
1 x Matador MP54 Sibir Snow 185/60 R14 82T =

46.00 £

1 x DeltiGrip Deltigrip eco - Quality Snow Chain for your car =

21.71 £
Enjoy winter with us!
For compact and middle-class vehicles.
Matador brand with long tradition, wide portfolio and reliable performance
High snow traction
Fits perfectly for example to Skoda Fabia, VW Polo and Peugeot 206
Excellent grip (traction) and driving safety in winter.
New generation of winter car tyres, wide range of rim sizes from 13" to 15".
We introduce a new generation of winter car tyres designed especially for compact and midrange cars. Latest technologies and aggressive directional tread provide high traction (grip) and safe braking on snow and ice, improved safety on wet surface and driving comfort.
A winter pictogram on the sidewall guarantees high reliability and excellent traction (grip) in winter conditions – tyres conform to winter grip test according to ASTM F-1805.
MP54 Sibir Snow is available in a wide range of 24 sizes, in speed category "T" – up to 190 kmph, widths from 145 mm up to 185 mm, designed for wheel rims from 13" to 15".
MP54 Sibir Snow tyre is equippped with "Winter TWI" – a winter tread wear indicator built-in circumferentially in several spots of the tread pattern, with height of 4 mm, indicating the need to replace the winter tyre after reaching this limit, thus maintaining driving safety in winter cionditions.
MP54 Sibir Snow offers an innovation element on the side wall – indication of tyre position on the vehicle - appreciated by drivers and servicemen when changing the tyres in line with the changing season.
Technical Highlights - Snow
FEATURES
Aggressive V-design shape.
High void volume with high number of block edges.
"Zig-zag" shaped main central groove.
EFFECT
High snow volume capacity and interlocking with the snow.
BENEFIT
Optimal snow traction.
Technical Highlights - Wet
FEATURES
Large number of lateral grooves in V-direction combined with good water displacement from the tyre centre outwards.
Wide central main groove.
EFFECT
Water is displaced effectively.
BENEFIT
High safety on wet roads.
Technical Highlights - Wear
FEATURE
Narrow and shallow longitudinal lateral grooves in the tread center.
EFFECT
Even pressure distribution in the footprint.
BENEFIT
Even wear and comfortable ride and longer tyre service life.
Technical Highlights - Comfort
FEATURE
Optimised tread pattern stiffness and material distribution.
EFFECT
Rolling noise is reduced by the optimised frequency distribution.
BENEFIT
Low noise levels and thus improved driving comfort.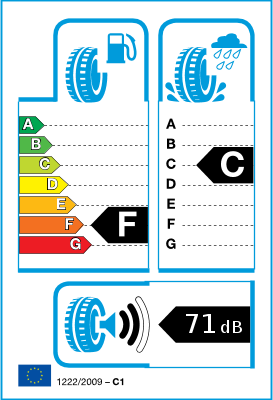 EU Tyre Label and Efficiency Classes
The European Union, under CE 1222/2009, has mandated that all tyres manufactured after the date of July 1 2012 for cars and commercial vehicles include standard EU Tyre Labels classifying them by three performance characteristics:fuel efficiency classified from A to G,wet grip classified from A to G, and noise emission in decibels.
Categories of tyres unaffected by this regulation include: retreaded tyres, professional off-road tyres, racing/sports car tyres, as well as certain types of tyres designed to improve traction such as studded tyres, T-type temporary spare tyres, tyres for cars built before 1990, tyres with a maximum allowed speed of 80km/h, tyres for rims with a diameter less or equal to 254 mm or greater or equal to 635 mm.
This label is intended on one hand to promote economic and ecological efficiency in traffic, as well as increase road safety, and on the other hand to help consumers select appropriate tyres by ensuring a certain degree of product transparency.
Nevertheless, the label has been criticized for only showing a very limited number of characteristics. Professionals argue that tyres have many more features that are important and relevant to road safety, including but not limited to aquaplaning properties, driving stability, service life, product properties on wet and dry roads other than wet grip, properties on snow.
Tyre manufacturers suggest that the test results from various institutions and industry magazines should remain a very important source of information for the end consumer, because they focus on and rate a wide variety of tyre properties and features.