availability
at the moment, this product is not in stock
Tyres
Winter tyres
M+S marking
with snow flake symbol
Tyre label
Frequently bought together:
1 x Maxtrek Trek M7 155/80 R13 79T =

38.40 £

1 x DeltiGrip Deltigrip eco - Quality Snow Chain for your car =

20.79 £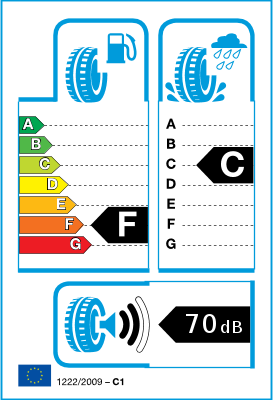 Tyre label / Efficiency class
We sell new cars tyres which are not older than 2 years.
Test Message
Tyres with the same item number, whether or not they are labeled, can be fitted on the same axle as they have the same efficiency class. Proof is available from the involved manufacturers.
The tyre efficiency class values are sent to us by the manufacturer along with the item number and the IP code. We forward the item number and these values to our customers regardless the manufacture date of the tyres excepting articles that are older than 2 years.
Please note that this tyre may not be labelled as it was manufactured before 01.07.2012.
In this case, the following efficiency classes are valid: Roll resistance: F, Wet grip: C, Noise emissions: 70 dB.
If the tyre was produced after 01.07.2012, the label from the chart on the left is valid.
Studless winter tyre.

A designated gum is used in production especially for snow tyres to improve tyre's flexibility and mobility. There are numerous sipes distributed on tread to increase traction for driving safty. In pratice, this tyre significantly prevents loss of control and shortens braking distance on snowy roads.

Snow tires are usually tires with a different rubber composition from all-weather (all-season) tires. Cold-weather tires include a greater percentage of natural rubber and silica so there is not as much hardening as found in synthetic rubber in cold conditions:they provide better traction at lower temperatures. Snow tires provide more small-tread areas, increasing tractionon snow and, in wet conditions, allowing water to escape from under the tire more easily.

This reduces the risk of hydroplaning. Snow/winter tires start to perform better than summer or all-season tires if temperature falls below 7C (45F), as the rubber compounds in the latter harden resulting to decreasing grip even on dry pavement Interestingly one achieves maximum grip on packed snow if the slippage/wheel spinis 40-50%, i.e. one should turn off the traction control in most modern cars for maximum traction.