Maxxis
Premitra 5
235/50 R18 97V with rim protection ridge (FSL)
Tyres
Summer tyres
Tyre label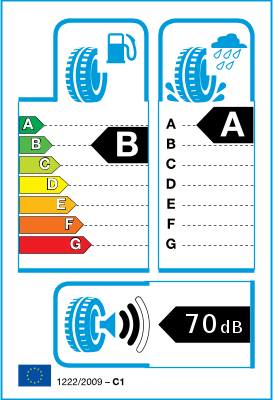 Tyre label / Efficiency class
We sell new cars tyres which are not older than 2 years.
Test Message
Tyres with the same item number, whether or not they are labeled, can be fitted on the same axle as they have the same efficiency class. Proof is available from the involved manufacturers.
The tyre efficiency class values are sent to us by the manufacturer along with the item number and the IP code. We forward the item number and these values to our customers regardless the manufacture date of the tyres excepting articles that are older than 2 years.
Please note that this tyre may not be labelled as it was manufactured before 01.07.2012.
In this case, the following efficiency classes are valid: Roll resistance: B, Wet grip: A, Noise emissions: 70 dB.
If the tyre was produced after 01.07.2012, the label from the chart on the left is valid.
The Premitra HP5 delivers outstanding performance in wet and dry weather conditions due to its world leading technology and design. Its full-silica rubber compound has been developed to reduce excessive heat generation, as well as improve wear performance and durability. The multiple variable pitch tread and lateral groove design has been developed to reduce vibration noise, lower rolling resistance and enhance wet handling to minimise the chances of hydroplaning. High-speed stability and handling has been improved due to high strength steel belts, guaranteeing an outstanding sport performance.