availability
at the moment, this product is not in stock
Tyres
Summer tyres
M+S marking
with snow flake symbol
Tyre label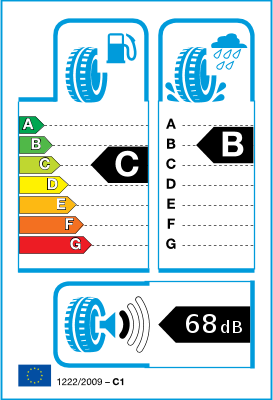 Tyre label / Efficiency class
We sell new cars tyres which are not older than 2 years.
Test Message
Tyres with the same item number, whether or not they are labeled, can be fitted on the same axle as they have the same efficiency class. Proof is available from the involved manufacturers.
The tyre efficiency class values are sent to us by the manufacturer along with the item number and the IP code. We forward the item number and these values to our customers regardless the manufacture date of the tyres excepting articles that are older than 2 years.
Please note that this tyre may not be labelled as it was manufactured before 01.07.2012.
In this case, the following efficiency classes are valid: Roll resistance: C, Wet grip: B, Noise emissions: 68 dB.
If the tyre was produced after 01.07.2012, the label from the chart on the left is valid.
Michelin CrossClimate + THE TRUE NORDIC SUMMER TYRE
Safety from early spring to late autumn - the summer tyre adapted to changing Nordic weather conditions
Remarkable performance on summer roads:
Excellent braking on dry roads(1)
Excellent braking on wet roads(2)
Extra safety during early spring and late autumn
Safety on frosty spring- and autumn roads
3PMSF certification for safe braking and traction on snow(3)
Value for money
Lasts even longer than MICHELIN Energy Saver + (best-in-class according to ADAC)(4),(5)
Extend your summer and save your winter tyres for winter(3)
(1) MICHELIN CrossClimate+ has the same level in dry braking than MICHELIN CrossClimate (Test conducted by TÜV SÜD Product Service, at Michelin's request, in September 2016, on dimension 205/55 R16 on VW Golf 7). MICHELIN CrossClimate has a similar level in dry braking than the Summer reference tyre (Comparative test done by AutoBild on dimension 205/55 R16, published the 30th of September 2016).
(2) Wet braking label 'B' on the European labelling.
(3) 3PMSF = Three Peak Mountain Snow Flake. Certification of performance on snow (braking & traction). MICHELIN CrossClimate is not a winter tyre according to Swedish legislation.
(4) Test conducted by DEKRA Test Center, at Michelin's request, between July and August 2016, on dimension 205/55R16 on VW Golf 7.
(5) MICHELIN Energy Saver+ is best-in-class in its summer category as it obtained the best score of 0.5 assigned by ADAC in longevity in its 2015 comparison of Summer tyres on size 205/55R16.