Nankang
AS-1
205/55 R17 91H with rim protection (MFS)
Tyres
Summer tyres
Tyre label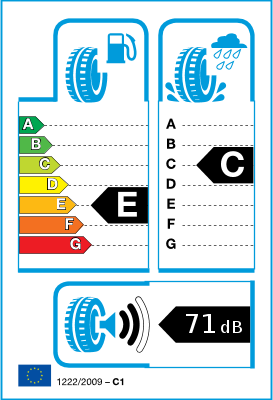 Tyre label / Efficiency class
We sell new cars tyres which are not older than 2 years.
Test Message
Tyres with the same item number, whether or not they are labeled, can be fitted on the same axle as they have the same efficiency class. Proof is available from the involved manufacturers.
The tyre efficiency class values are sent to us by the manufacturer along with the item number and the IP code. We forward the item number and these values to our customers regardless the manufacture date of the tyres excepting articles that are older than 2 years.
Please note that this tyre may not be labelled as it was manufactured before 01.07.2012.
In this case, the following efficiency classes are valid: Roll resistance: E, Wet grip: C, Noise emissions: 71 dB.
If the tyre was produced after 01.07.2012, the label from the chart on the left is valid.
With its asymmetric profile, AS-1 tyres can successfully unite quiet driving, sportiness and safety. The silicone compound in the tread ensures better handling in both wet and dry conditions, reduced rolling resistance and a high mileage. In order to get the better drainage efficiency, two straight road grooves are applied on the outside. To enhance the safety on the wet ground, the stream in the middle groove is used to accumulate the water with the assistance of fine sipe bar to divert the water for a safer drive.
To increase cornering force on the outside, the shoulder-high rigidity pattern to strengthen cornering force and enhance the steering ability. Unique straight grooves on the shoulder make the whole tread more rigid and prevent it from irregular wear. The evenly thin sipes reduce the road impact and enhance the comfort when driving. In order to get the best silent features, the tread pattern is using two-in-one and multi-pitch design..