Tyres
Summer tyres
Tyre label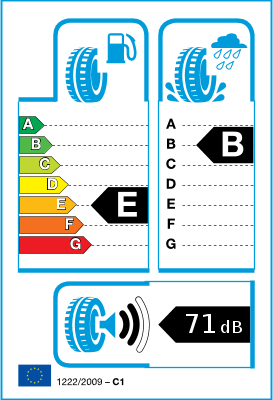 Tyre label / Efficiency class
We sell new cars tyres which are not older than 2 years.
Test Message
Tyres with the same item number, whether or not they are labeled, can be fitted on the same axle as they have the same efficiency class. Proof is available from the involved manufacturers.
The tyre efficiency class values are sent to us by the manufacturer along with the item number and the IP code. We forward the item number and these values to our customers regardless the manufacture date of the tyres excepting articles that are older than 2 years.
Please note that this tyre may not be labelled as it was manufactured before 01.07.2012.
In this case, the following efficiency classes are valid: Roll resistance: E, Wet grip: B, Noise emissions: 71 dB.
If the tyre was produced after 01.07.2012, the label from the chart on the left is valid.
Nexen N Fera RU1 - Fantastic Driving
With a fantastic ride and superb steering, your driving experience will be raised to the next level.
Superb driving experience
As a premium tire fitted out with new technologies for the best SUV driving experience, NFera RU1 provides superb handling and grip.
Wet Grip
4G optimized compound technology delivers an optimized tread grip on both wet and dry surfaces.
Handling
Improved block stiffness and balanced constuction provides excellent handling and steering stability.
Ride Comfort & Long mileage
Special tread compound, flexible sidewall and optimized asymmetric pattern design delivers a refreshing ride comfort and long mileage.
Pattern Design
Three Wide Grooves
Three wide grooves on the in-side part that wields great influence upon the driving performance in the rain are applied to improve hydro/wet performance.
One Narrow Groove
One narrow groove on out-side is applied to increase the block stiffness and thereby improve handling and steering stability during cornering.
Optimized Out/In Rib Balance
Optimized out/in rib balance delivers the best stability during high-speed driving.
Silent Sipes
Silent sipes disperse noise from high stiffness block and consequently, have a very low noise output.
Wet Grip and Dry Handling with Perfect Balance and Stability
N'Fera RU1's excellent wet braking performance is achieved with POS & HES technology. Optimal contact patch on road surface is realized by POS & FOS technology delivering best-in-class dry handling performance.
POS: Tire Profile Optimization System.
HES: Hydro Evacuation Simulation.
FOS: Footprint Optimum-shape Simulation.