Nexen
N Fera SU1
225/55 R17 101W XL 4PR RPB
Tyres
Summer tyres
Tyre label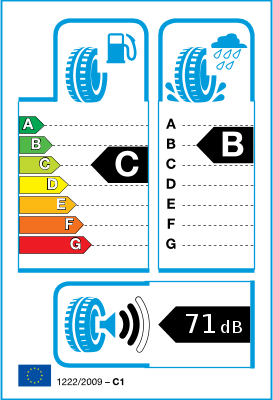 Tyre label / Efficiency class
We sell new cars tyres which are not older than 2 years.
Test Message
Tyres with the same item number, whether or not they are labeled, can be fitted on the same axle as they have the same efficiency class. Proof is available from the involved manufacturers.
The tyre efficiency class values are sent to us by the manufacturer along with the item number and the IP code. We forward the item number and these values to our customers regardless the manufacture date of the tyres excepting articles that are older than 2 years.
Please note that this tyre may not be labelled as it was manufactured before 01.07.2012.
In this case, the following efficiency classes are valid: Roll resistance: C, Wet grip: B, Noise emissions: 71 dB.
If the tyre was produced after 01.07.2012, the label from the chart on the left is valid.
Nexen N Fera SU1 - Complete superior driving!
Handles and grips perfectly in wet,with tires that feel intuitive!
Excellent braking
4 asymmetric grooves provide optimal road holding and perfect water drainage, provinding unmatched braking performance. In particular, outstanding grip performance is achived evenunder wet road conditions.
Excellent handling
N'fera sul's specialized shoulder block and rib block offers stable performance and outstanding steering response during hight speed comering.
Long lasting tread life
Product life-cycle prolonged with the application of age-resisting new compound and tire profile preventing one-sided wear.
Excellent wet performance
Hydophilic lateral Grooves efficiently remove water from the contact surface for excellent wet performance.
Efficient water drainage
Four asymmetric grooves (3wide+1semi) provide efficient water drainage for improved wet performance.
Maximum grip during cornering
Optimized shoulder block and rib in outer zone enhace grip for cornering and handling performance on wet and dry roads.
Intuitive and precise steering
Multiple 3D Edge Technology delivers optimum wet+dry grip for precise control by increased block stiffness and uniform pressure distribution.
Outstanding sraight stability
Continuous 3 center blocks distribution provide stability at high speed.