Tyres
Summer tyres
Tyre label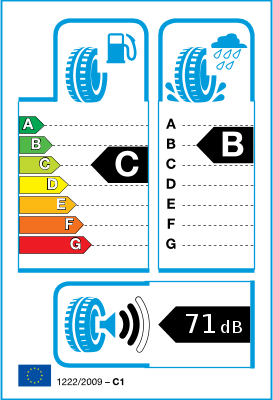 Tyre label / Efficiency class
We sell new cars tyres which are not older than 2 years.
Test Message
Tyres with the same item number, whether or not they are labeled, can be fitted on the same axle as they have the same efficiency class. Proof is available from the involved manufacturers.
The tyre efficiency class values are sent to us by the manufacturer along with the item number and the IP code. We forward the item number and these values to our customers regardless the manufacture date of the tyres excepting articles that are older than 2 years.
Please note that this tyre may not be labelled as it was manufactured before 01.07.2012.
In this case, the following efficiency classes are valid: Roll resistance: C, Wet grip: B, Noise emissions: 71 dB.
If the tyre was produced after 01.07.2012, the label from the chart on the left is valid.
VALUE FOR FLEETS, SAFETY FOR DRIVERS
A breakthrough in mileage.
The long lasting tyre for professionals
Through the use of an all new tread design and profile geometry plus an advanced silica compound, the CARRIER Summer achieves vastly improved mileage and performance over its predecessor placing it at the level of the market leaders. Those who drive for a living know it very well: a good tyre is crucial. The Carrier Summer Tyre will get you through even the most demanding conditions both safely and comfortably.
Mileage improvement of 30% thanks to a complete change of the profile geometry and an all new compound.
Up to a 10% improvement in wet braking, wet handling and aquaplaning resistance thanks to an all new tread pattern, compound and profile geometry.
Lower rolling resistance
Improved Comfort
Segment leading market coverage
FEATURES
New compound and enhanced tread geometry
Optimized profile and innovative materials
New compound and tread design with 3 wide longitudinal grooves
FUNCTIONS
Increased Mileage
Lower Rolling Resistance
Improved aquaplaning resistance and performance at wet braking
BENEFITS
Better Value for Money
Less fuel consumption and thus, an economical operation
Safety in wet conditions