Star Performer
SPTS AS
195/50 R16 84V , with rim protection (MFS)
Tyres
Winter tyres
M+S marking
with snow flake symbol
Tyre label
Frequently bought together:
1 x Star Performer SPTS AS 195/50 R16 84V , with rim protection (MFS) =

45.80 £

1 x DeltiGrip Deltigrip eco - Quality Snow Chain for your car =

21.98 £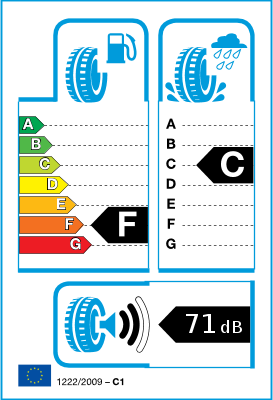 Tyre label / Efficiency class
We sell new cars tyres which are not older than 2 years.
Test Message
Tyres with the same item number, whether or not they are labeled, can be fitted on the same axle as they have the same efficiency class. Proof is available from the involved manufacturers.
The tyre efficiency class values are sent to us by the manufacturer along with the item number and the IP code. We forward the item number and these values to our customers regardless the manufacture date of the tyres excepting articles that are older than 2 years.
Please note that this tyre may not be labelled as it was manufactured before 01.07.2012.
In this case, the following efficiency classes are valid: Roll resistance: F, Wet grip: C, Noise emissions: 71 dB.
If the tyre was produced after 01.07.2012, the label from the chart on the left is valid.
Star Performer SPTS AS
The Star Performer SPTS AS is the successor to the AS and has been improved compared to the predecessor model. So the tyres should satisfy the different weather conditions. This succeeds as the customer reviews on Tyretest.com show. Several thousand testers give it high marks in all areas. The tyres not only have the M+S designation, but also the snowflake symbol, which officially classifies them as winter suitable.
The Star Performer SPTS AS is available in sizes from 13 to 19 inches. Thus drivers of all vehicle classes benefit of its excellent price-performance ratio. As a private brand of Delticom AG mytyres.co.uk can offer you products of this brand particularly favorable. Additionally you pay no shipping costs if you order more than one tyre. 
These are M+S and snowflake marked winter tyres, ideal for use in winter, having just the right amount of grip for both wet and dry surfaces. They also have a great price/quality ratio. Short braking distance, low noise level, heightened comfort, perfect traction and grip especially at high speeds. These tyres offer unequalled safety on wintry roads and in precarious weather.