Toyo
Proxes T1 Sport
285/35 ZR18 101Y XL with rim protection ridge (FSL)
Tyres
Summer tyres
Tyre label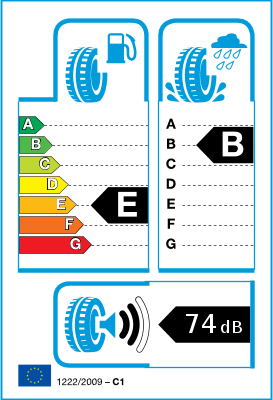 Tyre label / Efficiency class
We sell new cars tyres which are not older than 2 years.
Test Message
Tyres with the same item number, whether or not they are labeled, can be fitted on the same axle as they have the same efficiency class. Proof is available from the involved manufacturers.
The tyre efficiency class values are sent to us by the manufacturer along with the item number and the IP code. We forward the item number and these values to our customers regardless the manufacture date of the tyres excepting articles that are older than 2 years.
Please note that this tyre may not be labelled as it was manufactured before 01.07.2012.
In this case, the following efficiency classes are valid: Roll resistance: E, Wet grip: B, Noise emissions: 74 dB.
If the tyre was produced after 01.07.2012, the label from the chart on the left is valid.
Toyo Proxes T1 Sport
Ultra-High Performance Summer Tire State-of-the-art design and construction give the Proxes T1 Sport the perfect mix of high-speed stability and cornering power, precise steering response, and quick braking on wet or dry pavement. It is perfect for pushing through hairpin after hairpin on tight mountain roads or on the open highway headed for the beach.
Responding to the demand for ultimate handling in both wet + dry conditions, Proxes T1 Sport is supremely stable, even at fast highway speeds. Developed for European conditions and vehicles, the tire complements the handling of the most prestigious sports saloons and coupes.
Outside - Cornering Performance
Increased contact area through use of wide ribs with shallow and narrow groove to maintain good tread contact with the road.
Improved handling and high grip.
Inside - Aquaplaning + Braking
Two wide grooves ensure good water drainage.
Better braking achieved via a rib based pattern configuration, which increases the tread's rigidity in the back and forward directions.
Tread Design - Wide Outer Blocks
Increased contact area through the use of wide blocks with shallow and narrow grooves to maintains good tread contact with the road. Improved handling with responsive steering feel and high grip.
Tread Design - Wide Center Rib*
High-speed stability + handling response are improved by adoption of a wide center rib.
*285 section width and larger
Tread Design - Inner Rib + Notch
The inside ribs have a solid shape, which enhances rigidity, improves braking performance and reduces irregular wear.
Tread Design - Wide Straight Grooves
Wide straight grooves provide a wide water channel for better aquaplaning resistance.