Yokohama
BluEarth-A (AE-50)
195/65 R15 91H BlueEarth, Orange Oil
Tyres
Summer tyres
Tyre label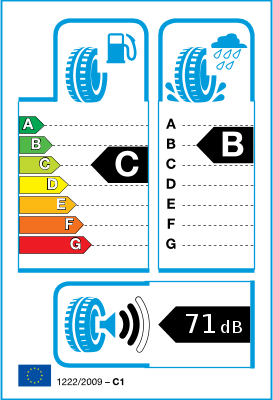 Tyre label / Efficiency class
We sell new cars tyres which are not older than 2 years.
Test Message
Tyres with the same item number, whether or not they are labeled, can be fitted on the same axle as they have the same efficiency class. Proof is available from the involved manufacturers.
The tyre efficiency class values are sent to us by the manufacturer along with the item number and the IP code. We forward the item number and these values to our customers regardless the manufacture date of the tyres excepting articles that are older than 2 years.
Please note that this tyre may not be labelled as it was manufactured before 01.07.2012.
In this case, the following efficiency classes are valid: Roll resistance: C, Wet grip: B, Noise emissions: 71 dB.
If the tyre was produced after 01.07.2012, the label from the chart on the left is valid.
Extreme wet grip with environmental performance
Benefits
Extreme wet grip with environmental performance
Fuel Saving with dynamic performance
Premium performance with sure handling, luxury comfort
Feature
Nano BLEND compound
Orange Oil
Double Silica
Fuel Saving Under Tread
Aero Dimple Shoulder
High Pitch Noise Control Design
Light weight design
Lightning grooves provide a sense of reassurance on rainy days
Employs big and small lightning type grooves. YOKOHAMA has expanded the groove volume while increasing block rigidity to enable safe and secure driving on rainy days.
Quietness for a more comfortable ride
Innovative, new 'noise-controlled pitch' ensure a consistently quiet ride.
While continuing to ensure that noise is dispersed by varying the pitch, BluEarth-A tyres suppress the incidence of uneven wear and maintain quietness as the tyres wear by making the pitch variation smaller. New BluEarth-A tyres also boast an enhanced level of quietness by increasing the number of pitches to 84.
BluEarth-A AE-50 compound
BluEarth-A AE-50 special compound that elicits exceptional maneuverability.
YOKOHAMA employs technologies and manufacturing methods in order to realize the best balance of fuel efficiency, wet grip and wear resistance. The use of double silica and orange oil improve grip performance on wet roads.